Ncell launches double data pack offer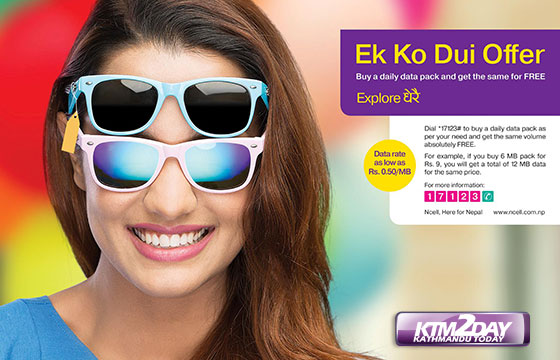 Ncell has launched a new campaign named ´Ek Ko Dui Offer´ under which its customers buying daily data pack will get extra data pack of same size for free.
The offer came into effect from Thursday and all Ncell prepaid and postpaid customers can enjoy its benefits by activating the offer, which is free of charge, the company said in a statement.
Ncell has been offering daily packs of 3 MB, 6 MB, 9 MB and 20 MB packs, which customers can buy at Rs 6, Rs 9, Rs 12 and Rs 20 respectively, excluding taxes.
"With the new offer coming into effect, customers on buying any of these daily packs will now enjoy double the volume they subscribed at the same rate.
The new offer has been launched as a part of Ncell´s commitment to provide quality data services at affordable rates," Milan Sharma, corporate communications expert of Ncell, said in the statement.
The offer will remain in place for 3 months and all daily packs are valid for 24 hours from the time of activation, according to the company .