Microsoft launches Office 365 cloud service in Nepal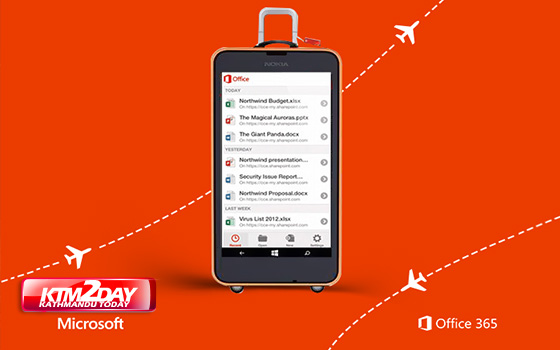 Microsoft has launched Office 365 cloud service for businesses, educational institutions and consumers in Nepal. The service enables seamless sharing of data across personal computers and smartphones using cloud computing technology. Since it is internet-based, data and solutions can be accessed from anywhere using a browser, the company said.
Launching the product in Nepal, Michelle Simmons, general manager for emerging markets at Microsoft Asia Pacific, said, "Office 365 will enable working from anywhere, anytime across all various devices including iOS and Android OS based mobile phones to get more work done, with unlimited storage with One Drive." She added that the service would make individuals more productive by facilitating online and offline access.
According to the company, Office 365 delivers the optimal benefits of cloud productivity, familiarity, social collaboration and control which is available as a monthly subscription. The price of Office 365 Business starts at Rs500 per month per user. Microsoft offers Office 365 for educational sectors for free.
"With the tools of Office 365 like Lync, Exchange and SharePoint, online meetings, video conferencing and digital note taking are possible, enabling employees to work as one to accomplish their tasks faster and easier," said Byron Radar, general manager of Office division at Microsoft Asia Pacific.