KFC PizzaHut ceases operations in Nepal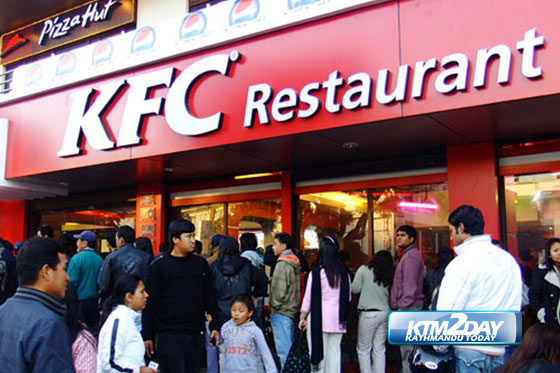 Citing labor issues, international fast-food chains Kentucky Fried Chicken (KFC) and Pizza Hut have announced to shut their operations in Nepal.Local franchisee Devyani International had been running KFC and Pizza Hut outlets in Durbar Marg since 2009 and in Blue Bird Mall since 2013.
Devyani International is a subsidiary of Indian multinational RJ Corporation.KFC and Pizza Hut outlets had shut operation from May 13, citing problems with trade union leaders.
"We have finally decided not to resume our services in Nepal. The Indian management has already taken the decision to this effect," Rohit Kohli, director of Devyani International told Republica, adding, "KFC and Pizza Hut might never return to Nepal."Earlier, Devyani International had shut KFC and Pizza outlets in August, 2012, citing labor issues.
It, however, resumed services after few days.Kohli said union leaders at KFC and Pizza Hut crossed limits at different phases of time on the issue of wages. "The average salary of KFC and Pizza Hut workers is around Rs 24,000. But they were demanding for more," Kohli said. "This left with no option but to withdraw from Nepal.
"He also said the company was consulting with different government bodies to fast-track the decision close the outlets.Meanwhile, Sita Ram BK, a leader of employees at KFC and Pizza Hut, said the decision was not because of labor problem.
"We had dispute with the management on May 11. But it was not that big," BK said, adding, "The management is only putting blame on workers."BK also said the issue related to growing conflict between management of Varun Beverage and Devyani International.Varun Beverage is the local bottler of PepsiCo.
It is also the subsidiary company of RJ Corporation.Stating that Kohli is associated with Varun Beverage, BK said: "It seems that the management of Varun Beverage is trying to take over the management of Devyani International. It might have led the company to take the decision to shut operations of KFC and Pizza Hut."BK also accused the management of disregarding workers' safety concerns after the earthquake.
"The management asked all staffers to join the office after the earthquake regardless of the loss of life and property that they suffered," BK said, adding, "Staffers that had already left to their village to rebuild their house were also asked to visit office to get their leave sanctioned."Despite mounting conflict with workers, BK is hopeful that the company would KFC and Pizza Hut outlets very soon.
As many as 155 people are working in KFC and Pizza Hut outlets and Durbar Marg and Blue Bird Mall.Two weeks ago, Federation of Nepalese Chambers of Commerce and Industry (FNCCI) had urged management and staff of KFC and Pizza Hut to resume service at the earliest.