Maggie Doyne named the 2015 CNN Hero of the Year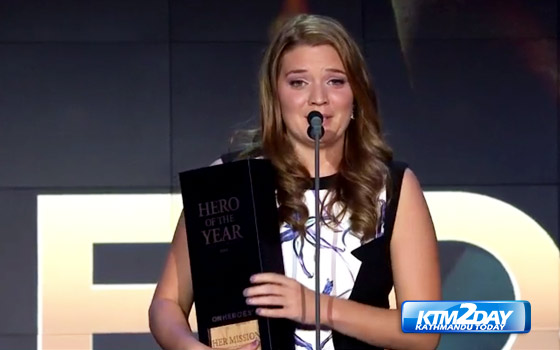 Maggie Doyne, a New Jersey woman who used her babysitting savings to change the lives of hundreds of Nepalese women and children, was named the 2015 CNN Hero of the Year on Tuesday at a star-studded awards ceremony in New York.
A decade ago Doyne's backpacking trip to Nepal transformed into a long-term commitment. Spending $5,000 in savings from her babysitting days, Doyne bought land and worked with the community to build a school, a women's center and the Kopila Valley Children's Home. Doyne's BlinkNow Foundation supports these efforts.
"If you had told me when I turned 18 that I was going to be the mom of 50 kids, I would have told you that you were totally crazy. And I am. And to my kids, I love you so much. Don't ever forget how much I love you," Doyne said Tuesday. "And to the country of Nepal, thank you so much for loving me and accepting me as a daughter welcoming me into your country.
"And to all of you in this room and who are watching, please, please remember that we have the power to create the world that we want to live in, just as we want it. And that's what all the Heroes here have done tonight."
Doyne was chosen from this year's Top 10 Heroes in an online vote by CNN's audience. She'll receive $100,000 for BlinkNow in addition to $10,000 that each Hero received for being named to the Top 10.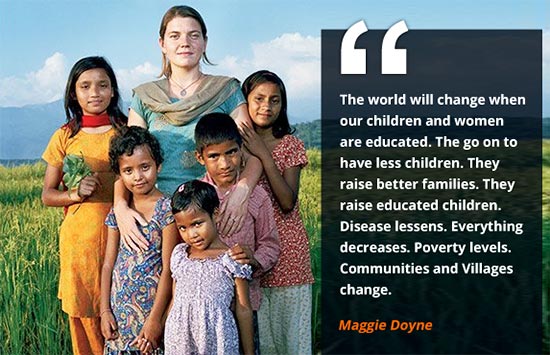 The "All-Star Tribute" honored all the Top 10 Heroes — everyday people who've made extraordinary contributions around the world.
Hosted by CNN's Anderson Cooper, the show included presenters Neil Patrick Harris, Taylor Schilling, Common, Kelly Ripa, Kathy Griffin, Sharon Stone, Chris Noth and Zachary Quinto.
During the ceremony, celebrity presenters joined each Top 10 Hero on stage as they shared the personal stories about what inspired them to give back to society. Musical performers included singer Andra Day, who performed her inspiring anthem "Rise Up."