LG and Samsung introduces new models of washer-dryers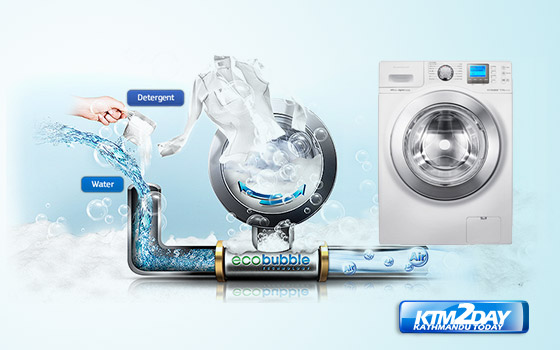 Dealers of washing machines have started rolling out new products despite gloomy market conditions hoping that the economy will recover soon from the devastating effects created by India's unofficial embargo.
LG and Samsung have introduced new models of washer-dryers. The machine combines a washing machine and clothes dryer. However, dealers of other brands like Whirlpool, IFB and Hisense have not been able to launch new products as their consignments are stuck at Nepal-India border due to the embargo.
Traders said that 60 percent of their sales happen during the winter season. However, they fear that sales this year will fall below expectations as the political situation of the country has not improved.
CG Electronics, the authorised distributor of LG Electronics in Nepal, recently launched two washer-dryers, one is fitted with Jet Spray technology and another comes with 6-Motion Front Loading technology.
The Jet Spray machine comes in 7 kg and 8 kg options which are priced at Rs37,000 and Rs38,000 respectively. The company also offers machines at Rs32,000 to Rs109,000.
"Demand has started picking up, but we have limited stocks," said Purushottam Bhandari, sales manager of CG. "We sold 1,500-1,600 units per month last year. But this year, the sales have dropped by 70 percent."
Samsung Electronics recently launched a new washer-dryer with a washing capacity of 8 kg and drying capacity of 5 kg. The washer-dryer is priced at Rs92,990.
The company has also introduced two models of Eco-bubble washing machines with a number of updated features for this winter. These two models come in 7 kg and 7.5 kg capacities, and are priced Rs72,990-76,990.
"We have very limited stocks as the import restrictions have not allowed us to bring more," said Shekhar Khatiwada, product manager – washing machines at Samsung Electronics Nepal office. "We are optimistic
that the market will improve soon."
Likewise, Subash Shrestha, sales and marketing manager of Nepa Hima Trade Link,the authorised distributor of Whirlpool washing machines in Nepal, said, "We used to make around 40 percent of our total washing machine sales during this period. But this year, we have no new products to offer our customers."