KMC launches KTM Metro app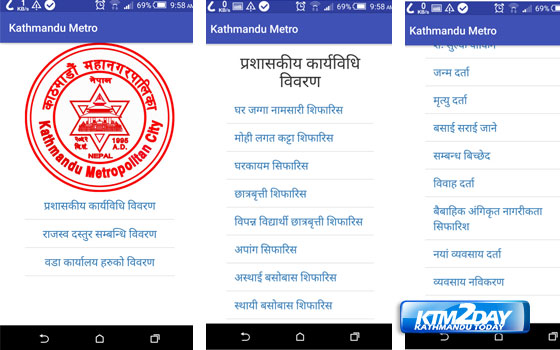 The Kathmandu Metropolitan City (KMC) has introduced a new mobile app "Ktm Metro".
Minister of State for Federal Affairs and Local Development Kunti Kumari Shahi launched the app amid a programme in Kathmandu on Thursday.
Through the newly launched mobile app, the KMC aims to provide additional and effective information to general public about the activities carried out by the metropolis.
According to KMC officials, the "Ktm Metro" app will provide information about 72 services carried out by the metropolis in its 35 wards, including information regarding tax collected by the KMC.
"We will be adding more information as required and upgrade the app in coming days," said KMC Chief Executive Rudra Singh Tamang. "This will also help maintain transparency."
Officials believe the mobile app will also help make KMC services fast and reliable.
Welcoming the KMC initiative, one of the app users, said such service would help in promoting people's right to information.
Android users can download the app from Google Play.
Link : KTM Metro APP [Android]