US Dollar strengthens furthermore against the Rupee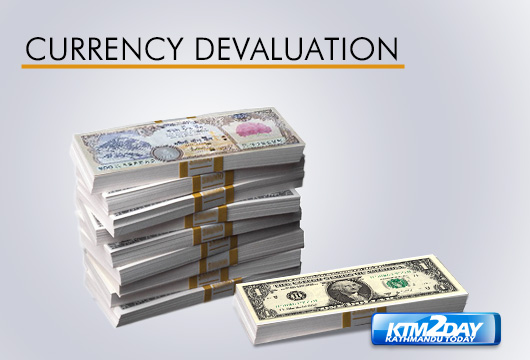 Nepali rupee has fallen to a fresh 28-month low against the US dollar, as the value of the Indian rupee, with which the country's currency is pegged, took a dip due to growing demand for US dollars.
Nepali rupee, which closed at 107.83 against the US dollar today, will open for trading at 108.54 on Saturday, shows the reference rate of Nepal Rastra Bank (NRB), the central bank. The rupee's exchange rate vis-à-vis the greenback will remain the same on Sunday. NRB fixes exchange rates for Saturdays and Sundays in the afternoon of Fridays.
Rupee had last fallen to this level on September 4, 2013, when the exchange rate had plunged to an all-time low of 109.03 a dollar. This means the exchange rates for Saturday and Sunday are the second lowest in Nepal's history.
The value of Nepali rupee has been tumbling recently because of pressure felt by the Indian currency.
Indian rupee, which opened at 67.35 per dollar today, fell to as low as 67.71, before closing at 67.61, the lowest since September 3, 2013.
Indian currency is currently under pressure as foreign institutional investors are continuously offloading shares in line with global selloff. This is raising demand for the greenback.
Overseas investors sold $174 million more Indian shares than they bought this week through January 13, Bloomberg's latest data show. "Withdrawals last week, at $383 million, were the biggest since the five days ended December 4," Bloomberg said.
Also, falling oil prices and volatility in China are contributing to Indian rupee's losses.
"The Indian currency's movement is largely sentiment driven. As China market continues to crash, there will be impact on emerging market currencies, including India. There is also an expectation that there might be four rate hikes from the US Federal Reserve, than the three expected before," LiveMint quoted Harihar Krishnamoorthy, treasurer at FirstRand Bank, as saying.
This indicates Indian rupee will further take a hit in the days to come.
If Indian currency comes under pressure, the value of Nepali rupee will further depreciate.
A weak currency actually benefits recipients of remittance here, as they will get more Nepali currency while exchanging money sent by Nepalis working abroad.
A weak currency also provides leverage to exporters, as foreign buyers will get more of local currency to purchase goods or services here while exchanging dollars.
But this theory does not always apply in Nepal where prolonged hours of power cuts and other structural problems work as disincentives for exporters. Hence, weak currency has not been able to give a lift to Nepali exports.
While there is little improvement on exports front, imports — except in the first five months of this fiscal year — have continued to rise because of the nation's status as 'net importing country'.
This means a weak currency will only stoke inflation in a country like Nepal because importers will have to pay more of domestic currency while purchasing foreign goods priced in US dollars.