Nepal to rebuild historic Dharahara tower on its own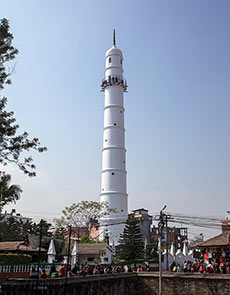 Nepal has decided to rebuild on its own the historic Dharahara tower that was turned into rubble during the April 2015 earthquake.
Prime Minister K P Sharma Oli and his cabinet ministers yesterday decided to contribute their one month's salary as seed money to rebuild the monument.A citizens fund will be established under the campaign "I will construct Dharahara" from today that will contribute towards the reconstruction.
As many as 180 bodies were found in the rubble after the tower collapsed on April 25 last year. Nearly 9,000 people were killed in the earthquake.
The department of archaeology said 754 historical, cultural and religious monuments in 20 districts, including the 61-metre-tall Dharahara, were damaged in the quake and its aftershocks.
Among them, 133 were reduced to rubble, while 621 sustained varied degrees of damage.
Oli, while inaugurating the reconstruction process of Dharahara at Sundhara yesterday, announced to give a month's salary – Rs61,820 – for the citizen's fund for the reconstruction of the tower.He also requested all Nepalese people living in and outside the country to donate funds for the reconstruction.
"Dharahara is a symbol of our unity and strength, it is an identity of all Nepalis. It has to be reconstructed under the fund collected from each individual," said Oli.
Dharahara, built some 250 years back, was the tallest building in Kathmandu and could be seen across the valley.
At the programme, Sushil Gyawali, chief executive officer of the reconstruction authority, said the new tower will be earthquake-resistant.
"This is a historic self-construction campaign by common Nepalese. The department of archaeology will work for it from today, and this tower will be a symbol of the devastating quake, regaining of hope, unity and our pride," said Gyawali.