Huge iron ore reserves found in Nawalparasi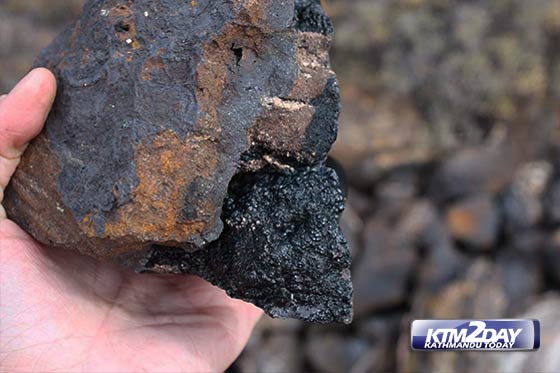 Huge iron ore reserves have been found in Dhaubadhi VDC of Nawalparasi, 22 km into the forest from the highway, according to a government survey team.
The deposits could amount to more than 8 million tonnes, making them the largest in Nepal, said Narayan Banskota, geologist at the Department of Mines and Geology, who has been conducting the survey. The reserves were found during the second exploration of the area.
Banskota said that the iron ore reserves are spread over 100 hectares and lie 250 metres deep in the ground in Pokhari village of Dhaubadhi.
According to him, the reserves cover an area of 8-10 km. "The reserves are the largest discovered in Nepal so far."Iron ore reserves have been discovered in Those, Ramechhap and Phulchoki, Lalitpur. The mining at these places had been entrusted to the private sector.
The iron deposits in Those were mined on a small scale for almost 100 years during the Rana period. The mines closed in the 1950s after finished iron became easily available in the market.
Geologists Banskota and Naresh Maharjan and officials Basanta Adhikari, Ashif Babu Shrestha and Baburam Khatri had started the survey in Nawalparasi in the first week of March.
The team is scheduled to complete a detailed survey and make an estimate of the volume of the iron ore deposits within three weeks.Banskota said that iron ore deposits had been found with a mixture of magnetite (black rocks). The area had been explored five years ago.
"The final survey was conducted after the department accorded top priority to the project," said Banskota.He added that high-grade resources could be spread over 10 km. The survey team has collected samples by digging holes 200 metres apart.
Iron ore occurs in the form of rocks and minerals from which metallic iron can be economically extracted. It is the main raw material for making steel.
According to the department, well known iron ore deposits in the country are located in Phulchoki (Lalitpur), Those (Ramechhap), Labdi Khola (Tanahun), Jirbang (Chitwan), Dhuwakot (Parbat), Purchaundi/Lamunigad (Baitadi), Dahabagar, Kachali and Ekghar/Khanigaon (Bajhang).