Urban Cable Car system feasibility test concludes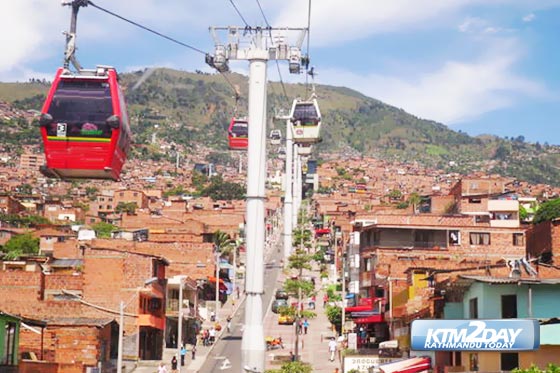 Urban cable car system can save about 50 to 60 percent time and reduce noise and air pollution by 30 to 40 percent compared to conventional transport system, a study shows.
The study financed by the French government under a technical assistance program was conducted by a team of engineers and consultants from SYSTRA and MDP.
Among others, the study has found that urban cable car transport is feasible in Kathmandu Valley. The study has identified a complete cable car transportation network system having four lines — Lagankhel to Jamal, Tankeshwar to Gangabu Bus Park, Kalanki to Ratnapark and Bouddhanath to Bishnumati, according to a statement issued by the French Embassy in Kathmandu on Monday.
The main objective of the was to put into perspective the feasibility and relevance of a transport by cable system in Kathmandu for a quick solution that is operational, runs with green energy, is accessible, and effective to the problems of the city compared to other modes of transportation system such as metro or monorails, the statement added.
French Ambassador to Nepal Yves Carmona handed over the feasibility study report to the Secretary of Ministry of Physical Infrastructure and Transport Arjun Karki amid a function organized at the ministry on Monday.
Some Nepali entrepreneurs and French investors have shown interest to execute this ambitious project on Public Private Partnership (PPP) model, according to the statement.