Mobile subscriptions outnumber population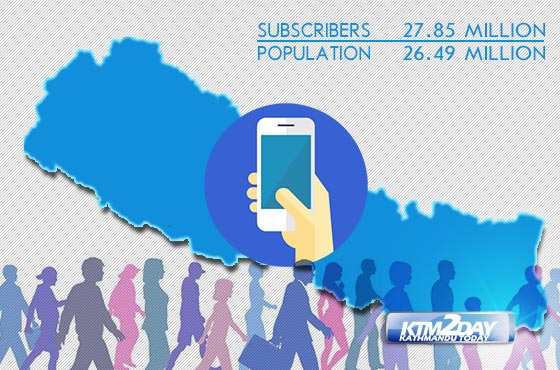 The number of mobile subscriptions has outnumbered Nepal's population.With a single person subscribing to more than one service, the mobile service penetration rate has hit 105.15 percent of the population, according to the latest Management Information System (MIS) Report of Nepal Telecommuni-cations Authority (NTA).
As of February, the number of mobile subscriptions in Nepal stands at 27.85 million, against the total population of 26.49 million. Among the telecommunications services, the least penetration is of fixed telephone—3.2 percent.
The growing mobile service penetration has also contributed to the rise in the sales of handled devices. Nepal imported 4.16 million handsets worth Rs14.63 billion as of mid-May this fiscal year—up 33.1 percent year-on-year, according to the Department of Customs.
"The telecommunications sector has witnessed both quantitative and qualitative growth as a result of the rise in the number of both service providers and service seekers, and technological innovation," states the Economic Survey 2015.
With the rise in the number of mobile phone users, internet penetration has also increased to 44.89 percent of the total population as of mid October 2015, according to NTA. Two telecom giants—Nepal Telecom and Ncell—hold a 97 percent share in the domestic data market, which suggests most of the costumer use internet in their mobile devices. NT enjoys a market share of 56.99 percent, while Ncell has 40.62 percent share in the data market, according to NTA data.
There were less than 50 internet users in 1995, which grew to 12.51 million as of mid-February 2016, according to NTA. The rise has been attributed to the smartphone revolution in late 2000s that changed the way people communicate.
Although smartphones have become an integral part of people's lives, importers say the domestic mobile phone industry has yet to see boom times. "Many people in rural areas are yet to switch to smartphones from bar phones," said Nitesh Kumar Mundra, director of Vatsal Impex, authorised distributor for Xiaomi. "But the growth rate is very high and there is stiff competition."
Smartphones bundled with engaging applications are the fastest selling gadgets in the world, and 1,000 mobile phones were shipped every 21.8 seconds during 2015, according International Data Corporation (IDC).
Mundra said with the entry of new players, market is moving towards rapid growth in upcoming years.
"The smartphone industry operates in a highly dynamic business environment because of the rate of technological obsolescence," said Pawan Bhimseria, chairman of Genxt, official distributor of iPhone. "If unsold, the value of a smartphone depreciates by half in just few months."
According to global forecasts, more than half of the adults own smartphones and the figure is predicted to reach 80 percent by 2020.
Moreover, Nepali telecom operators are planning to launch 4G technology next year. With the introduction of the technology, service quality and data speeds will further enhance. 4G networks based on LTE (long-term evolution) technology supports up to 100 Mbps data speed, depending on the setup and traffic.