One Plus 3 launched with Qualcomm Snapdragon 820 for $399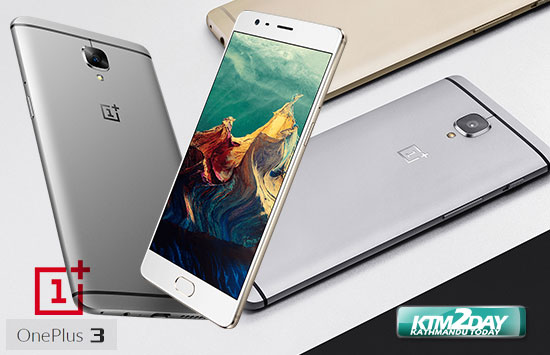 Similar to its predecessors, the OnePlus 3 follows the OnePlus mantra of offering top of the line specs for a discount. For $399 unlocked and without a contract, you get the latest Qualcomm Snapdragon 820 processor, 6GB of RAM,  fingerprint sensor and a 16 megapixel rear camera in an aluminum package that's similar in aesthetic to the latest phones from Apple and HTC.
Custom $24.99 backcovers are available in various woods. a Kevlar-like "Karbon" and "sandstone" are also available to spice up the feel of the device.
The phone comes with 64GB of included storage. NFC, or the ability to use the phone with Android Pay for mobile payments, is back on the new phone as is an updated feature called "Dash Charge" that promises 60% battery life in 30 minutes.
By comparison similarly priced phones like LG's $349.99 Nexus 5X and Apple's $399 iPhone SE start with 16GB of storage and come with slower processors and smaller screens.
Like most unlocked devices, it's limited to use on AT&T and T-Mobile's networks in the US. Sorry, Verizon and Sprint users.
As with 2014's OnePlus One and last year's OnePlus 2, the OnePlus 3 features 5.5-inch full HD screen. And like the OnePlus 2 and OnePlus X, the new phone is powered by OnePlus' OxygenOS, a slightly modified version of Android 6.0.1 Marshmallow.
Unlike prior OnePlus launches, you can buy the OnePlus 3 today without needing to wait for an invite.
The display on the OnePlus 3 is great, though it's not as sharp as rivals like the pricier Samsung's Galaxy S7 or LG's G5. The company's Dash Charge quick-charging tech works as advertised, getting over 31% charge in 15 minutes and over 60% in 30 minutes, but requires that you use the company's proprietary, more powerful cable and adapter for the full effect. One cable and adapter are included with the phone, with additional cables running $14.95 and additional adapters running $19.95 each. A Dash Charge car charger is available for $29.95.
Other USB-C cables and adapters will work with the OnePlus 3, but they will charge the phone at a much slower pace.
Battery life in general was very good, often easily lasting a full day.
Unlike the Galaxy S7, there is no wireless charging. The device is also not water resistant.
While the 64GB of storage is nice, it would've been great to have a microSD slot for expansion.
The cameras take good looking pictures in well lit environments but struggled in low-light, with pictures not looking as sharp compared to those taken on an iPhone 6S Plus.
OnePlus 3 Price In Nepal – NRs. 49,900