Nepal Telecom revises Fibre To The Home rates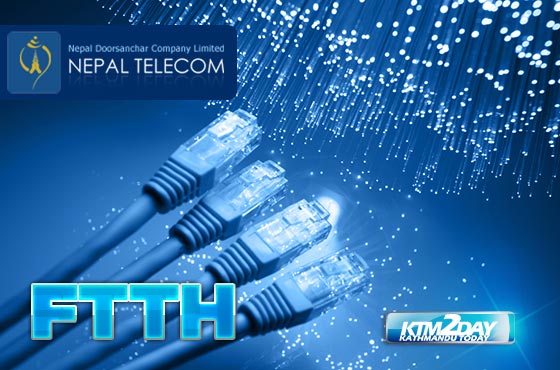 Nepal Telecom (NT) is revising the rates of its fibre to the home (FTTH) services.
The rates, which will be effective from Friday, have been revised for package distribution and sales, customer-premises equipment (CPE) charge and rate of optical fibre, as per a media release issued on Wednesday.
For FTTH service, only packages of bandwidth of up to 10 Mbps for three months for Rs 5,160, for six months for Rs 9,120 and 12 months for Rs 18,240 will be available. Moreover, bandwidth of up to 100 Mbps will be available for Rs 23,040.
All the remaining packages have been discontinued. Moreover, NT has also revised the CPE charge — Rs 5,000 on the purchase of three-month package, Rs 2,000 on purchase of six-month package and free for the 12-month package.
Moreover, the company will repair and replace the equipment for free in case of problems within a month of installation.It can be replaced for Rs 5,000 thereafter.
While installing the FTTH service, 100 metres of 2 core optical fibre will be provided for free and any additional fibre will cost Rs 20 per metre.
Also, users facing problems in their fibre after that can have it replaced at a cost of Rs 20 per metre.