Nepal Oil Corp. becomes debt free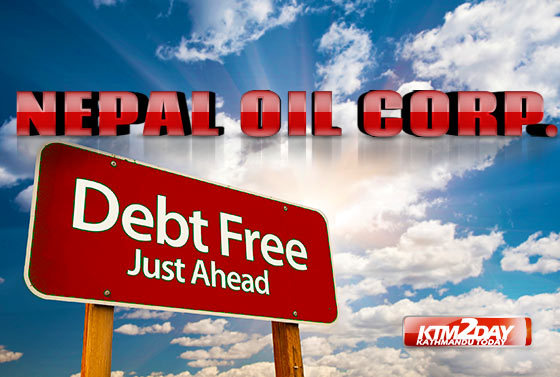 Nepal Oil Corporation (NOC) has become debt free after 13 years.  Recently, NOC has paid back Rs 1.41 billion to the government of Nepal after which it has become debt free. NOC was in debt since the FY 2059/60. It had taken debt from the government along with various banks and financial institutions  (BFIs) in a bid to carry out fuel trading. "NOC has paid all the debts taken from the government and various BFIs in various dates. Now we are debt free," said Mukunda Ghimire, Spokesperson of NOC. In the total amount paid by NOC, Rs 800 million is the loan amount and remaining Rs 615.3 million is interest.
With the increase in petroleum products' price in the international market, NOC had been trading fuel occurring loss. According to it, the loss had accumulated to Rs 36.86 billion by the year 2071. After adopting automated pricing system in the year 2071, NOC started to earn profit. After two years of implementing automated pricing system, NOC has finally become debt free paying all the due amount.
Recent fall in the price of crude oil in the international market to USD 30 per barrel has escalated the profit of NOC. The price of crude oil is still under USD 50 in the international market. Currently, NOC is earning Rs 700 million monthly profit which was Rs 1 billion few months back. "The excessive price fall of crude oil in the international market along with internal progress has enabled us to pay the debt," said Sita Ram Pokharel, Acting Director for Finance Department, NOC.
NOC had taken debt from the government owned organisations including Citizen Investment Trust, Employee Provident Fund. It had also taken loans from private BFIs including Everest Bank, Nabil Bank, Bank of Kathmandu. According to Pokharel, NOC had already paid back debts taken from various BFIs in the last FY. It has now fully paid the government debt of Rs 12.64 billion in seven instalments in the current FY.