Govt. to promote aviation sports tourism sector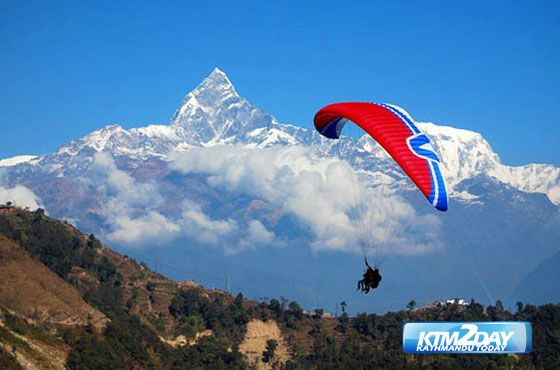 The government has enforced the Recreational Aviation Regulation 2016 amending the Aviation Sports Regulation 2012 in a bid to promote adventure tourism—touted as one of the fastest growing sectors.
The new regulation came into effect from July 16.
Leisure aviation activities like paragliding, hang gliding or micro-light and ultra-light flights have become one of the most popular adventure sports among visitors to Nepal. As of now, only Pokhara has been the hotspot for leisure aviation and the government plans to diversify such activities in other areas too.
Buddhi Sagar Lamichhane, joint-secretary at the Tourism Ministry, said the new regulation aims at making the activities more popular and enabling firms involved in the business to operate more efficiently and transparently.
He said the regulation has simplified procedures for foreign amateur flyers in Nepal. Likewise, special permission can be issued to conduct any of these activities in any special occasion under the new rule.
A code of conduct has been imposed for pilots and operators. also, the companies should make public the fare of all such activities. "Amid growing concern that the companies have been charging fares in a haphazard manner, we have enforced the provision of making fare public," said Lamichhane.
The Civil Aviation Authority of Nepal charges Rs150,000 for an air operator certificate and Rs50,000 as flight permission fee per flier, which is valid for 15 days.
In a bid to encourage such activities outside Pokhara, the companies will be offered a 50 percent discount on licence renewal fees, pilot registration fees and charge levied on equipments.
As the number of leisure aviation, particularly paragliding, has reached a saturation point, making the airspace in Pokhara congested and unsafe, the Tourism Ministry in September 2014 had stopped issuing new operating permits.
New permits have been restricted in Sarangkot, Toripani and Mandredhunga, covered by the air traffic service route of Pokhara airport and its control zone within 10 nautical miles radius.
Currently, there are more than 65 paragliding companies across the country—more than 95 percent operating in Pokhara. A few companies have been permitted to operate in Bandipur, Bhedetar, Surkhet, Syangja and Palpa.
The ministry statistics show the number of paragliding flyers in Pokhara jumped significantly to 8,999 in 2015. Of them, 5,692 were foreigners. The figure was at 6,548
in 2013.
Aerial sports began in Nepal in 1996 with Sunrise Balloon and Avia Club offering hot air ballooning and ultra light flying, respectively. Paragliding started to take off in 2007.
Popular season for this adventure sport is September-November. However, operators say paragliding is becoming popular as an all-season activity among the visitors.