US Embassy launches "BookTuk" mobile library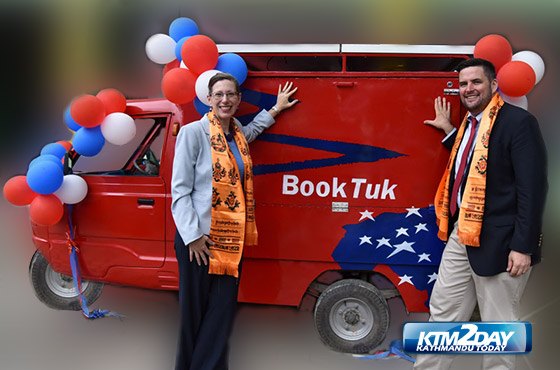 A mobile book bus library at Padma Kanya Higher Secondary School in Dillibazaar in Kathmandu has been launched on Friday.
The library was set up by the US Embassy in Nepal.
US Ambassador to Nepal, Alaina B. Teplitz and Coordinator for the Bureau of International Information Programmes (IIP) at the Department of State, Macon Phillips inaugurated the BookTuk at the launch ceremony today.
"Taking the small, but meaningful step to lower the damage on environment is what each of us can do and BookTuk is our small step in that direction," said Ambassador Teplitz.
"I am excited to introduce BookTuk as our new addition to the range of American Spaces in Nepal," said Coordinator Macon Phillips at the function.
A new, electricity-powered mobile library—"BookTuk" is a refurbished small-sized Safa Tempo. The electric vehicle, also features solar-powered wireless internet and can reach inner city locations in the Kathmandu Valley, the Embassy said in a statement today.
"The mobile internet access gives BookTuk visitors an access to educational websites and helps them learn how to use computer technology," according to the statement.
Through the BookTuk project, the US Embassy will also donate books to young readers in both English and Nepali.