Ergonomic workstations from Featherlite launched in Nepal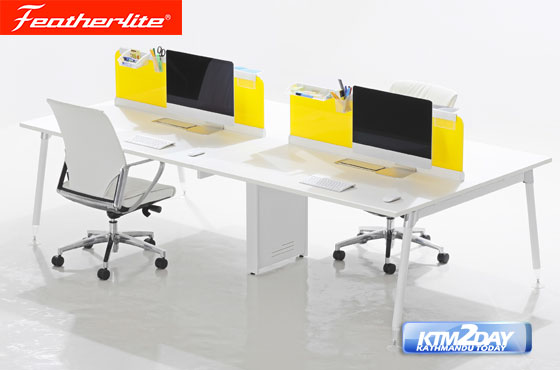 Parth International, the sole distributor of Featherlite furniture in Nepal, has launched new ergonomic products in a bid to tap into the evolving market.
A range of office workstations that are comfortable and reduce the risk of injury from stress and strain were rolled out amid a programme to mark 50 years of global operations of Featherlite. Featherlite is one of the leading furniture manufacturing organisations in India.
According to Parth International, offices and individuals in Nepal have become more conscious about the need for smart furniture, and as a result, demand has grown.
"We have received good feedback from individuals and corporate houses in Nepal," said Nitin Srivastava, general manager of franchise development at Featherlite."In Nepal, many medium and small-scale firms are still operating with traditional furniture, and we aim to foray into those segments.
Moreover, Featherlite has also provided solutions to low-budget startups that require modern office setups."
According to Srivastava, office layouts are changing from partition-based to desk-based system, and Featherlite can fulfill the requirements with its faster to assemble, customized and high quality offerings.
"Moreover, we will also come up with living and hotel furniture in the near future," he added. The distributor maintains a showroom at Kamaladi, Kathmandu.
During its two years of operation in Nepal, Featherlite has witnessed a growth of over 35 percent and has sealed deals with big corporate houses like Samsung, Thompson Nepal, Ghorahi Cements and Pashupati Tradelink, among others," said Nikunj Agarwal, director of Parth International."Retail sales account for 40 percent and business houses account for 60 percent of our total sales."
According to Agarwal, the biggest challenge in the Nepali market is to change the mindset of the people from traditional layouts to ergonomic, efficient and modern concepts of workstations.
Featherlite's workstations—like the Perform series and Edge series—are popular in the Nepali market. On Tuesday, the company launched two types of workstations—the Color series and Connects series.
Prices of Featherlite chairs range from Rs8,500 to Rs109,000. There are more than 200 chairs in the company's lineup. Prices are as per industry standards, the company claimed.
According to R Balaji, vice-president of operations at Featherlite, their products go through a rigorous testing procedure and are ergonomically certified. They are certified by the Business and Institutional Furniture Manufacturers Association and have bagged various awards for excellent product performance.