Nepal Airlines resumes flight to Dubai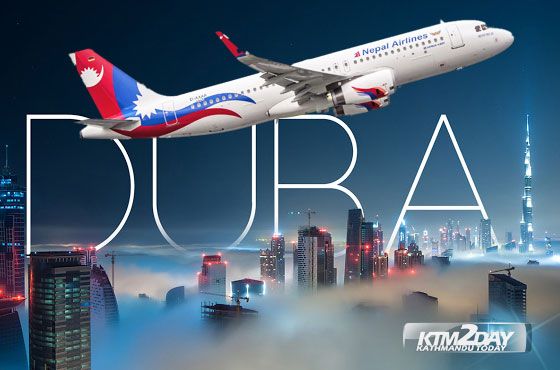 The Nepal Airlines Corporation (NAC) has resumed Kathmandu-Dubai direct flight after a gap of around four years, on Thursday.
Earlier the service was halted due to the lack of sufficient aircraft.
The service formally resumed yesterday when an aircraft belonging to the national flag-carrier with 158 passengers on board took off for Dubai at 11:20 pm, the NAC Corporate Director and Spokesperson Ram Hari Sharma said.
The plane landed at the Tribhuvan International Airport at 10:25 this morning on its return journey from Dubai, he said.
The aircraft (A-320) with a capacity of 158 passengers was piloted by a crew team led by Captain Rabindra Purush Dhakal to Dubai from Kathmandu, while upon the return, an eight-member crew led by Captain Vijay Lama had operated the flight.
The direct flight service with a potentiality of attracting passengers has received an encouraging response from passengers.
All seats were occupied on the day when the service resumed, and for the upcoming Sunday flight, all seats have already been booked, Sharma said.
He said that the NAC has been encouraged by the overwhelming response of passengers and thanked passengers and all stakeholders for helping the NAC become able to resume its service.
According to the NAC flight schedule, three flights will be operated from Kathmandu to Dubai every week (Sunday, Tuesday and Thursday). Likewise, Monday, Wednesday and Friday are scheduled for Dubai-Kathmandu return flights.
It takes four hours and 40 minutes for a flight to reach Dubai from Kathmandu while four hours and 15 minutes from Dubai to Kathmandu.
The fare is Rs 32,000 for a round-trip ticket.