Ncell Launches Mobile TV Packs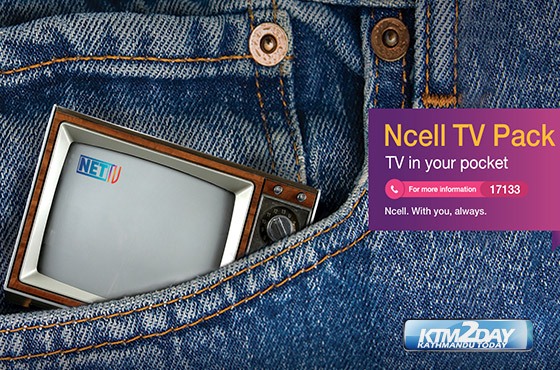 Ncell has launched a new service 'Mobile TV Packs', enabling its customers to watch live TV in mobile at an affordable rate on the occasion of festival. Issuing a press statement, Ncell informed that the launch of the TV packs marks yet another milestone in Nepali telecommunications market. It is the first time in the country that any telecommunication company has made mobile TV service available in mobile platform.
Customers subscribing the packs will be able to watch TV online in Net TV App, a product of NITV Streamz Pvt. Ltd with which Ncell has partnered for the mobile TV service.
According to the statement, the TV packs have come into effect from Wednesday (October 26, 2016) for the period of 15 days.  Depending upon customers' requirement, Ncell's postpaid and prepaid customers can buy packs containing time duration of 30 Mins, 1 Hour, 2 Hours and 3 Hours to use the TV app.  30 Mins pack costs Rs 35 and charge for 1 Hour pack is Rs 60. Similarly, 2 Hours and 3 Hours packs cost Rs 100 and Rs 150, respectively. The packs' cost includes applicable taxes.
All four packs can be subscribed in both one-time and auto-renew basis. For one-time, pack validity will be 24 hours after activation, while for recurring packs, they will be renewed at mid-night automatically.
"We are glad to introduce this service, which ensures affordable access to our customers to watch live TV on their handset," said Milan Sharma, Corporate Communications Expert of Ncell. "Amid growing demand for mobile data and contents, this will definitely add value to our customer to enjoy convergence of mobile and TV service."