Mahindra unveils the latest e2o Sportz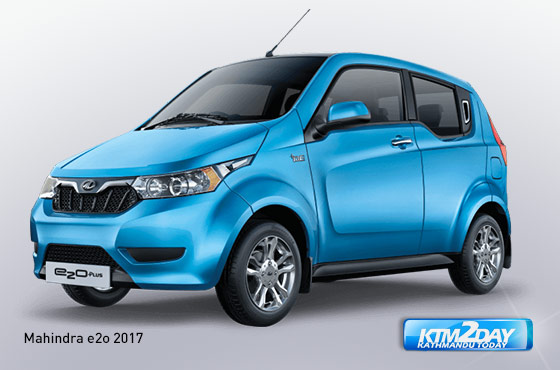 Agni Energy, the authorised distributor of Mahindra Vehicles for Nepal, launched its latest all-electric car, e2o sportz, in the Nepali market on Tuesday. The new car is an upgraded version of e2o model.
Mahindra e20 sportz has been designed with focus on safety, convenience and enhanced performance, said Dharmendra Mishra, head of sales and marketing at Mahindra Electric.
The model available in Nepal is same as the one that Mahindra exports to the UK, meaning the car being sold in the country meets EU safety standards, Mishra told the Post on the sidelines of an event organised to launch e20 sportz.
The e20 sportz, which costs Rs2.6 million, runs solely on electric power. The car comes with 72-volt lithium ion battery and runs up to 127 km once fully charged.
One of the drawbacks of owning an all-electric car in Nepal is absence of fast charging stations. These stations, powered by 50-kilowatt (kW) DC electricity, can charge batteries in as less as one-and-a-half hours.
But because of lack of this infrastructure, Nepalis who drive electric cars have to resort to their power sockets at home, which supply around 3kW AC electricity, and take up to nine hours to fully charge the car's battery.
Despite these barriers, more and more people in Nepal are purchasing electric cars.
"I see electric mobility becoming the norm even in Nepal. The day is not too far when electric vehicles will be dominant," said Mahindra Electric CEO Mahesh Babu, who handed over keys of newly launched four-wheelers to three customers on Tuesday.
The three-door hatchback comes with dual airbags, anti-lock braking, air conditioning system, Android powered touch screen infotainment centre, reversing camera and automatic gear transmission. The car can be remotely monitored via mobile application named e2o remote. This app can remotely start or stop charging and pre-heat or cool the car.
The car's steering is mounted with audio controls and switches that control front windows and side mirrors.
The car, with a seating capacity for four persons, attains speed of up to 60 km per hour in just 8.8 seconds. Unlike previous e2o model, the new e2o sportz launched in Nepal comes with faux leather seats, rapid charge port and rear windscreen wiper.
The car and its battery come with three-year or 60,000 km warranty.
e2o Plus P8(72V)Price – Rs. 31,00,000 (Aug 2018)