LG Styler launched in Nepal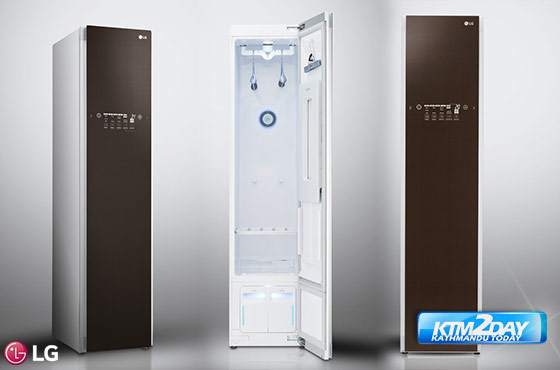 LG, a multinational conglomerate, has introduced LG Styler, a steam clothing care device that can iron clothes and remove odour, in the domestic market.
The one-door cupboard like device is capable of steaming and putting crease on garments, and removing odour and wrinkles from clothes in as less as 20 minutes to make them fresh and wearable. Priced at Rs311,990, inclusive of all taxes, the styler can revitalise the finest garments with the gentle power of steam, according to manufacturer. The steam used by the device, according to LG, is not laced with any chemical.
All users have to do to steam their garments or remove odour and wrinkles is hang their clothes, such as shirts or pants, in the device and press a button on its full touch panel. The device then shakes the garments back and forth as steam penetrates them. The styler then takes 20 to 40 minutes to complete its job, which, according to LG, is much faster than washing clothes.
The styler also helps to sanitise fabrics and delicate items that are difficult to hand-wash or machine-wash. The styler also dries fragile garments without causing them to shrink and helps reduce allergens and bacteria by up to 99.9 percent, according to LG. The styler also creates creases on pants and makes them crisp. The device easily fits in small spaces and comes with a moving hanger, versatile rack, portable water container, aroma kit and interior light.