Saurya Airlines adds another Bombardier CRJ-200 to its fleet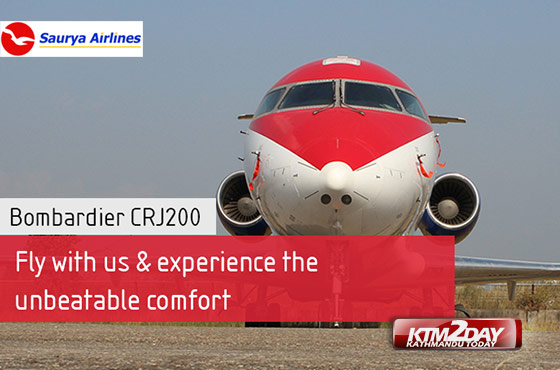 Saurya Airlines has added another Bombardier CRJ-200 aircraft to its fleet.
The aircraft landed at Tribhuvan International Airport today afternoon.
Now the airlines has two 50-seater CRJ-200 aircraft and is planning to add another aircraft of a similar make within the next three months, according to Mukesh Khanal, marketing chief of Saurya Airlines.
The aircraft was flown to Nepal from the United States. The approximate cost of the aircraft is Rs one billion. At present, Saurya is operating in three major trunk sectors of Nepal — Biratnagar, Bhadrapur and Nepalgunj from Kathmandu — with four scheduled flights carrying 400 passengers every day.
Saurya Airlines had started its commercial operation from November 17, 2014.
After adding another aircraft to its fleet, Saurya Airlines plans to operate in the Dhangadi and Bhairahawa sectors once the new plane starts operation. "We will very soon start mountain flights as well," Khanal said.
The Canada-manufactured aircraft is basically preferred by people for its comfortable seats, spacious legroom and optimum safety.