KFC opens new outlet in Lakeside Pokhara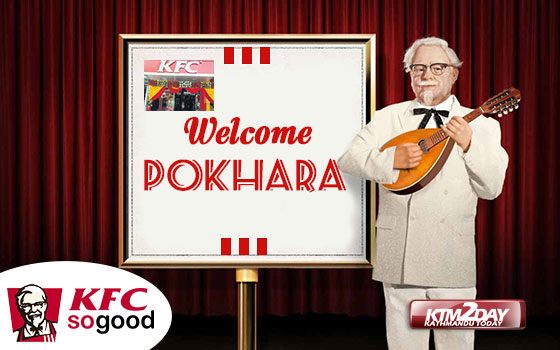 American fast food chain Kentucky Fried Chicken (KFC) has opened its new outlet at Lakeside of Pokhara. It is KFC's first outlet outside Kathmandu Valley.
Dipsha Bhatta, director of KFC's Pokhara outlet, said that the new outlet will target Pokhara locals as well as domestic and international tourists. "Pokhara is the No.1 destination for domestic tourists. We want to offer them the taste of KFC," she said, adding: "Though Pokhara receives large number of foreign tourists, our targeted customers are Nepalis."
Bhatta also said that a large number of Nepalis are thronging the new branch which started operation few days ago. "We have received positive response. The excitement of local people shows that the lake city had been waiting to taste international standard delicacies," she added.
The KFC outlet in Pokhara has the capacity to serve 155 customers at a time.
KFC was introduced to Nepal by Devyani International back in 2009. The new branch in Pokhara is also operated by Devyani International.
This is KFC's third outlet in Nepal after Durbar Marg and Tripureshwar in Kathmandu.
Devyani International has plans to open new KFC outlets in Bouddha of Kathmandu as well as in Dharan and Chitwan.
The Pokhara outlet plans to bring chicken from Kathmandu. "Every branch of KFC has the same taste and the reason behind it is that we use the same quality of meat and same equipment in every branch," Bhatta said.
According to Bhatta, the Pokhara outlet of KFC will offer 25 different items. The price of our food items ranges from Rs 160 for a vegetable burger to Rs 2,858 for 'Best of KFC', she added.
"Youths, students, entrepreneurs and businessmen of Pokhara and domestic tourists are our targeted clientele. We are targeting Nepalis because Pokhara gets foreign tourists only during major tourist seasons," she added.
Laxman Baral, president of Restaurant and Bar Association of Nepal (Reban) Pokhara Chapter, said that the opening of KFC outlet will put pressure on other restaurants in Pokhara to be cautious about maintaining quality.
All women staffers
The KFC outlet in Pokhara boasts of an all-woman team.
According to Bhatta, the outlet has woman staffers in all sections like housekeeping, kitchen, and management, among others.
"The decision to have an all-woman team will help to make self-dependent and capable to face any challenge. We are confident that the woman staffers can maintain the quality of this fast food chain," she added.