Kathmandu-Terai Expressway foundation stone laid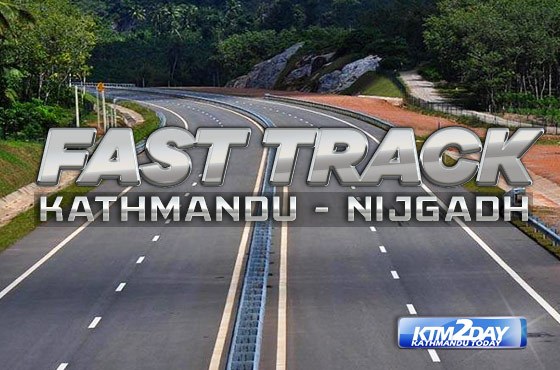 Prime Minister Pushpa Kamal Dahal laid the foundation stone for Kathmandu-Terai Expressway amid a function here on Sunday.
The cabinet meeting held on May 5 decided to hand over the task of executing the 76.2 kilometer four-lane expressway project to the Nepal Army (NA).
Officials of the Nepal Army say that the project will be completed within four years.The project is estimated to cost Rs 112 billion.
The government has allocated Rs 10 billion for the project in the current fiscal year.
The expressway will connect the Kathmandu Valley with the Terai region. The NA has already opened track of the project. The expressway goes through Khokana of Lalitpur, Dakshinkali of Kathmandu, Panchakanya, Gadhi and Dhiyal of Makawanpur, and Bharatpuri and Lal of Bara before joining the East-West Highway at Lamagadhi near Nijgadh.
Yogendra Khand, chief of the expressway project, said that construction will move simultaneously in 10 sections. "The road will be 23 meters wide in Tarai region and 23 meters in hilly region. There will be 99 bridges and tunnels stretching two kilometers," Khand said, adding that the government was determined to complete the project as it was crucial for the country's economy.
Speaking on the occasion, PM Dahal said the government was committed to completing project at any cost. "The government will give due respect to all involved if construction work is completed within the stipulated time," he added.
Likewise, Minister for Physical Infrastructure and Transport Ramesh Lekhak said that project was awarded to the NA so that it is completed in time.
Similarly, Chief of Army Staff Rajendra Chhetri, said that it was a matter of pride that the NA has been entrusted with the task of executing a national priority project. He also exuded confidence that the project will be completed within the set deadline.
According to the Ministry of Physical Infrastructure and Transport, the government has already spent Rs 1.64 billion on the project so far. The government has spent around Rs 820 million to open the track and remaining amount to distribution compensation for land acquired for the project.
The fast-track to be constructed between Nijgadh and Kathmandu will reduce the travel distance to one hour once the expressway comes into operation.