Nepal's second aviation museum opens in Sinamangal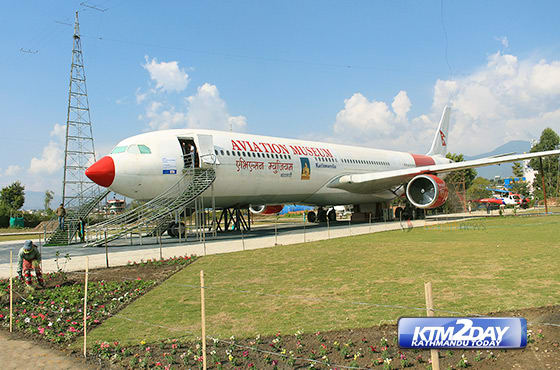 Nepal's second aviation museum has officially opened its doors for visitors.
Bed Upreti Trust officially launched the aviation museum in the presence of officials of the Civil Aviation Authority of Nepal (CAAN) on Sunday.
The museum had organized a soft-launching ceremony on November 4, allowing students free entry to the second aviation museum of the country. Over 50,000 students visited the museum in the past three weeks, according to the trust.
Expressing gratitude to all concerned for their positive response toward the museum, Captain Bed Upreti, founder of the trust, said that the aviation museum could be the best place for those interested in the aviation sector.
According to the trust, students of Grade 9 to 12 from across the country can visit the museum free of cost provided that they produce a letter from their school and show their identification cards. Similarly, one teacher per 15 students also gets free entry to the museum.
Ticket price has been fixed at Rs 250 for citizens of SAARC countries, including Nepal, Rs 125 for students, Rs 125 for differently-abled people, and Rs 500 for foreigners. The museum opens from 10 am to 5 pm.
The museum has been built inside an Airbus A300-300 aircraft of Turkish Airlines which crash-landed at the Tribhuvan International Airport in March 2015, blocking the runway for four day. Captain Bed Upreti in partnership with Civil Aviation Authority of Nepal (CAAN) invested Rs 70 million to buy the aircraft.
The first aviation museum of the country was also built by Captain Upreti. It is based in Dhangadhi.
The museum has on display miniatures of different aircraft. Likewise, it also gives brief history of the aviation sector. The museum employs 25 staffers.