SsangYong Rexton launched in Nepalese market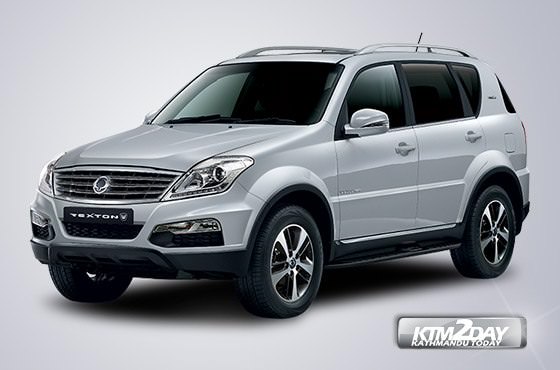 IMS Motors has launched the all-new SsangYong Rexton of Korean brand in the Nepalese market.
IMS Group's chairman Deepak Malhotra and IMS Motor's Chairman chief Executive Officer Dikesh Malhotra on Wednesday has unveiled the SsangYong Rexton in Nepalese market.
IMS Motors is the sole authorized distributor of SsangYong Motors for Nepal, and one of the leading organizations under IMS Group.
The new Rexton uses an eXDi 220 diesel engine and a Mercedes-Benz 7 speed automatic transmission delivering a smooth shift feel and responding quickly to enable a dynamic driving.
"The design is conceived under the theme "Majestic Thrilling'', embodies the Shoulder Wing which conveys a dynamic image and captures SsangYong Motor's determination to provide the highest valued bases on constant technology development. Apart from its dynamic and voluminous front look, the SUV also comes with LED (DRL, turn signal lamp, brake light, license plate light) Center Chrome Molding,20 inch sputtered wheel to add the stylishness and the luxurious look of the model, "stated on press statement released by company.
It is based on 4WD technology however, the drivers may use rear wheel drive mode for riding comfort and efficient fuel combination. A combination of a front wheel double wishbone and a rear wheel multi-link independent suspension ensures a high level of driving stability and riding feel.
It is stated, "The new Rexton has nine airbags and uses Quad Frame (best lateral collision safety). Furthermore, it also comes with Electronic Brake-force Distribution with Anti-lock Brakes (EBD with ABS), Anti-Rollover Protection (ARP), Brake Assist System, Hill Assist System, Hill Descent Control, all disc brakes, and DRL (Daytime Running Lamps) to ensure seamless safety of the passengers and matching requirements of Nepal's current road conditions. It comes with largest 8 inch HD screen and infinity's premium 10-speaker system, Auto Door Closing & Easy Access, a high performing dual zone fully automated air condition, the 220V inverter in rear and a Smart Tailgate for loading and unloading of cargo."
The company informed that the new SUV comes with the choice of 6 speed manual and 7 Speed Automatic transmissions for NRs.11,199,000/- and NRs. 11,999,000.- respectively. The launch of Korean SUV, Rexton also comes with service warranty of 3 years up to 60,000kms.