Suzuki Celerio updated version launched in Nepal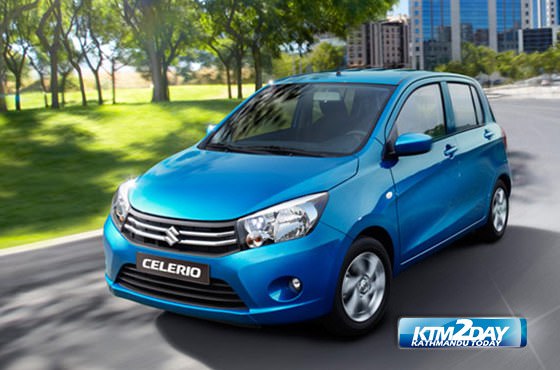 CG Motocorp, authorised distributor of Suzuki cars has launched the latest update to their popular passenger car 'Celerio' in Nepal. The new Celerio is being introduced as 'the perfect family car'.
Powering the new Celerio is Suzuki's tried and tested K10 engine. The 3-cylinder engine with a displacement of 1 litre produces up to 68 hp at 6000 rpm and 90 Nm of torque at 3500 rpm. Suzuki claims that the new Celerio will deliver a fuel efficiency of 23.1 km per litre. The updated Celerio gets a new front grill and stylish front bumper assembly. The cosmetic updates at the back of the car has given a fresh look to the new car as compared to the previous version, reads the press release. On the interior side, Suzuki has upgraded the materials such as the use of fabrics to provide better seating comfort.
The new Celerio has also received subtle changes to ensure a comfortable driving experience. Suzuki has given the car an impressive ground clearance of 170 mm, minimum turning radius of 4.7 metre and a wheelbase of 2,425 mm. There are other features like adjustable seats, electronically adjustable rear view mirrors, auto down driver power window, keyless entry, electrical power steering, powerful air conditioning, 2 DIN music systems, bluetooth hands free system available in the updated Celerio.
The price of the new Celerio starts from Rs 2,339,000.
Safety features provided in the new Celerio makes it an ideal choice for family use, reads the press release. The car is equipped with driver side airbag as standard on every variant, anti-lock braking system, force limiter and pretensioner with Emergency Locking Retractor (ELR) seatbelts for safety. The company has also considered safety features to minimise head and neck injury. An anti-theft system is present on the car.
"The new Celerio is featured with various advanced features for great performance, safety and comfort," said Karan Chaudhary, executive director of CG Motocorp. "We have launched this car to target Nepali families," he added.
The company provides 4 years of warranty along with 8 free servicing on the Celerio. According to Chaudhary, Suzuki is also preparing to launch the sport variant of this car—the Celerio X soon.