Kathmandu Monorail Project in a state of limbo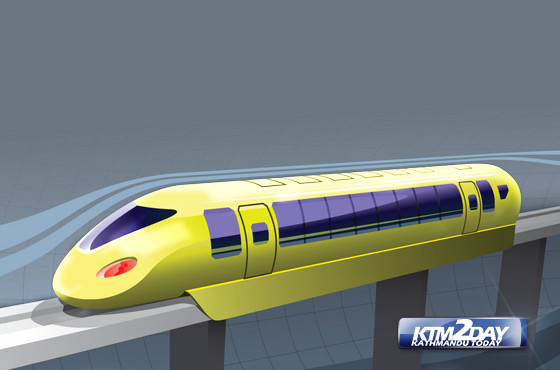 Preparation of the detailed project report (DPR) of the much-hyped Kathmandu Monorail Project has been delayed following a spat between Investment Board of Nepal (IBN) and Kathmandu Monorail Company (KMC) over a few provisions in the draft of memorandum of understanding (MoU) of the project.
The draft MoU prepared by IBN has a provision that KMC should deposit Rs 100 million as 'performance guarantee' before conducting the DPR of the project. However, KMC has been saying that this provision will add financial burden to the company, taking its total cost to prepare the DPR of the project to almost Rs 500 million.
KMC has planned the construction of Kathmandu Monorail Project under build, own, operate, transfer (BOOT) model.
KMC, in December 2016, had inked a joint venture agreement with Powertek Sdn Bhd of Malaysia to construct a monorail in Kathmandu covering the Valley's Ring Road. KMC would have a 70 per cent stake and the Malaysian company would have a 30 per cent stake in the project, which would span over altogether 28.55 km.
"We have reservations regarding a few provisions in the draft MoU prepared by IBN, primarily the clause regarding Rs 100 million in performance guarantee," said DN Thapa, chairman of KMC.
Stating that the provision will not only add financial burden to the project developer, he claimed that there is no law in existence with such a provision that requires a project developer to deposit such a huge amount of money as 'guarantee' before conducting the DPR.
However, Uttam Bhakta Wagle, spokesperson for IBN, said that performance guarantee for any project is necessary to ensure timely completion of the DPR and the project itself.
According to Thapa, feasibility study of the project has shown that monorail construction along the Ring Road will cost Rs two billion to Rs three billion per kilometre. The project, which envisions constructing the monorail at a height of above 14 feet from ground level, will be able to transport up to 150,000 passengers a day.
"Construction of monorail in Kathmandu is crucial to ease traffic congestion. As it would run on electricity, the mode of transportation would be pollution-free as well," said Thapa, adding the concerned authorities should facilitate in executing this project effectively.
According to the MoU, the project developer would have to hand over the project to the government after 35 years of commercial operation.