Chinese airplanes to remain grounded indefinitely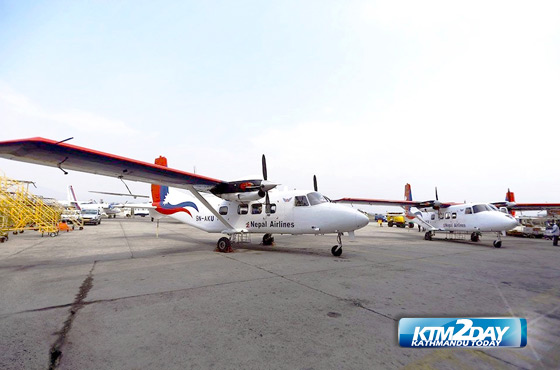 Nepal Airlines Corporation (NAC) has not been able to fly its new Chinese-made planes for lack of qualified pilots since they arrived in February, and they could remain in their hangars indefinitely, company officials said.
The state-owned carrier moved to hire three Chinese pilots following instructions from Tourism Minister Rabindra Adhikari to have the planes in the air by June. But the plan hit a stumbling block as the commercial pilot licences (CPL) possessed by the Chinese pilots are only good for flying helicopters in Nepal.
The Civil Aviation Authority of Nepal (Caan) will be sending an official letter confirming that NAC's application seeking flying approval for three English-speaking Chinese pilots will not be approved due to regulatory restrictions, sources at Caan said.
Pilots need to hold an Airline Transport Pilot Licence (ATPL), the highest level of aircraft pilot certificate, to fly multi-engine planes in Nepal. To obtain the ATPL, a pilot has to complete 1,500 flying hours besides receiving necessary training.
"The Chinese pilots can fly in the Nepali skies, but only as a copilot," said a Caan official. NAC had planned to hire the three pilots by paying them a monthly salary of Rs800,000 each.
Meanwhile, NAC Managing Director Sugat Ratna Kansakar said that they were preparing to bring another two English-speaking Chinese pilots. However, he did not say how or when.
As per International Civil Aviation Organisation (ICAO) rules, pilots flying international routes or destinations must have a minimum level of English to communicate with air traffic controllers regularly.
This level of English proficiency is known as ICAO Operational Level 4. The English language proficiency scale ranges from Levels 1 to 6.
NAC has produced only three captains and an instructor pilot to fly the Y12e aircraft in the last three years. However, out of the four captains, one has resigned, one has taken leave and another one has not updated his flying licence.
In 2014, when the first batch of two 17-seater Y12e aircraft arrived in Kathmandu, they remained on the ground for more than two months for lack of pilots. NAC received another two Y12e aircraft in February.
The national flag carrier now has four Y12e aircraft in its fleet, but only one captain to fly them.
NAC owns six Chinese aircraft—two MA60 manufactured by Xi'an Aircraft Industrial Corporation and four Y12e manufactured by Harbin Aircraft. Of these six aircraft, an MA60 and an Y12e are gifts.
Air Asia X clears dues partially
KATHMANDU: Malaysian-based low-cost carrier Air Asia X has cleared Rs110 million in two installments out of the Rs400 million in dues it owes to Tribhuvan International Airport (TIA). According to Raj Kumar Chettri, general manager of TIA, the airline has committed to pay a monthly instalment of Rs55 million. Chettri said that the carrier owed Rs130 million in fines out of the total. As per the Airport Service Charge Regulation, if an airline fails to pay its dues by the stipulated time, there is a provision for charging a penalty of 5 percent for 15 days, 15 percent for 16-30 days and 30 percent after that period. (PR)