Nepal Airlines new Airbus A330-200 to touchdown on June 27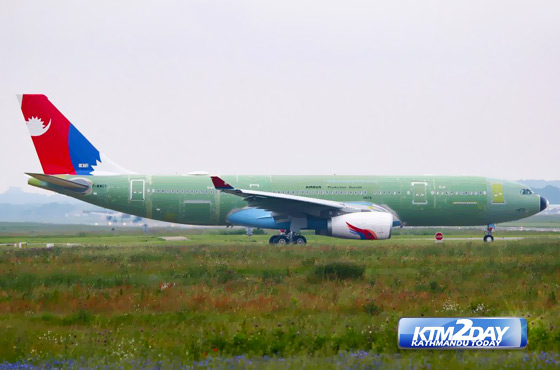 Nepal Airlines Corporation's (NAC) brand new Airbus A330-200 is expected to touch down at Tribhuvan International Airport on June 27, company officials said. According to NAC Deputy Managing Director Ganesh Bahadur Chand, the aircraft manufacturer is scheduled to deliver one of the two wide-body jets on order on June 26. The Airbus bears manufacturer's serial number 1872 (MSN 1872). The second jet bearing manufacturer's serial number 1878 is scheduled to arrive in July.
NAC ordered the two 274-seater jets through Portuguese leasing company Hi Fly. Both planes are at the Airbus final assembly line in Toulouse, France. On April 13, Airbus twitted, "Say hello to @HiFly_Airline's future #A330 currently being assembled at our Toulouse Final Assembly Line."
Two weeks ago, a NAC team including representatives from the financiers Employees Provident Fund (EPF) and Citizen Investment Trust (CIT) visited the Airbus factory to inspect the aircraft.
One of the team members EPF Director Rajendra Kafle posted on his Facebook page that the Airbus would conduct test flights of the jet bearing MSN 1872 from May 16 and deliver it by June 26.
The jetliner is in the final phase of production. Pictures obtained by the Post show that almost all the components including passenger seats, in-flight entertainment and engines have been installed. NAC's livery has also been painted on the aircraft's tail.
The two A330-200s, powered by Rolls-Royce Trent 700 engines, will feature a two-class cabin configuration that will seat a total of 274 passengers—18 in business class and 256 in economy class.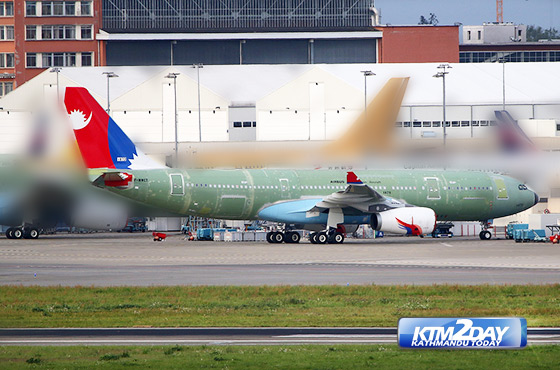 Likewise, each seat will be equipped with RAVE Centric, the latest in-seat AVOD in-flight entertainment system. According to NAC, it has signed a 12-year total-care-package contract for the aircraft's Rolls-Royce engines, including spare engines, if needed. The carrier has borrowed Rs24 billion from the CIT and the EPF to buy the planes.
In April last year, NAC signed the final purchase agreement for two Airbus A330-200 long-range jets from US-based AAR Corp. The $209.6-million contract is the largest-ever jet purchase deal in Nepal's aviation history.
NAC has started preparations to launch three long-haul routes in Asia, but it has had to put its European plans on hold as Nepali carriers are still banned in the EU. The corporation has invited proposals from potential ground handling service providers at Kansai International Airport in Osaka, Japan.
It has made a similar call to prospective ground handling service providers at Incheon International Airport in Incheon, South Korea and King Khalid International Airport in Riyadh, Saudi Arabia. As per the initial proposal, the national flag carrier has planned to operate four weekly flights to Riyadh, three weekly flights to Incheon and two weekly flights to Osaka.