Maersk Line opens new office in Kathmandu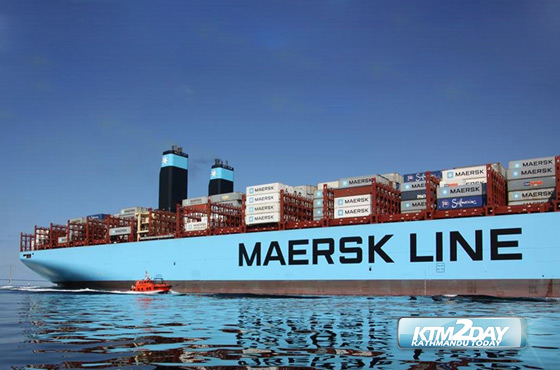 Maersk Line, the global container division of Maersk Group that has been providing Nepali traders with shipping services, has opened its new commercial office in Kathmandu. The new office commenced operations from June 1, the company said.
With Maersk Line opening its new outlet, local traders can now book their shipment locally. Similarly, traders can receive immediate information about the position of their imported and exported goods en route the destination.
Besides, traders are now able to fix the shipping rates and other logistics offered by Maersk Line through negotiation with the shipping company directly. As of now, traders have to depend on the Kolkata based office of the shipping company to get related information.
RB Rauniyar, managing director of Himalayan Terminal, a Nepal-India joint venture terminal management company, said Maersk Line recently opened its liaison office and is in process of obtaining licence to operate its commercial unit in Nepal.
"The new move by Maersk Line provides direct access to traders to negotiate on services provided by the shipping company," said Rauniyar adding that traders as of now have to rely on email and related channels to be in touch with the shipping company. For over last two decades, Maersk Line has been providing shipping and logistical solutions to Nepali traders via its network in India.
In the beginning, the company was offering its service only through Kolkata port in India. Since June 2017, the company has added its container shipment services from Visakhapatnam to Inland Container Depot in Birgunj via the 'Kathmandu Express.'
According to Maersk Line, it has been offering 14 dedicated trains from Visakhapatnam to Birgunj on a monthly basis.
The online payment, handling of documents, electronic Delivery Order issuance and timely cargo clearance in Nepal are among the services that the company has been providing to Nepali traders.
Maersk Line operates 325 offices across 125 countries and a fleet of more than 500 vessels along with 1.9 million containers. Maersk Line in India, Bangladesh and Sri Lanka has footprints across 27 offices and close to 400 employees covering all major locations and cargo hubs, says the company.