Hotel and restaurant employees to get 72% of service charge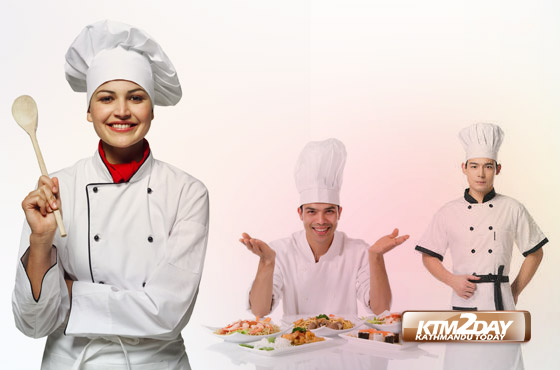 Hotel and restaurant employees will now get a bigger share of the service charge received from the clients.
According to an agreement signed on May 26, 2018 between Hotel Association Nepal (HAN), All Nepal Hotel Casino & Restaurant Workers Union, Casino & Restaurant Workers Union, and National Tourism and Hotel Associated Workers' Union, now onwards workers of all hotels and restaurants listed with the government will receive Rs 72 out of per Rs 100 received on service charge.
Currently, all hotels and restaurants are collecting 10 percent service charge from the consumers. The service charge will be distributed considering 100 percent. On the basis of this distribution, the workers will now receive 72 percent from the total service charge, while 23 percent will go to the owners for 'loss & breakage', 'skill development training', 'standard maintenance' and other reasons.
Likewise, HAN and Restaurant and Bar Association of Nepal (REBAN) will receive two percent, while three percent will go to three trade unions — All Nepal Hotel Casino & Restaurant Workers, Nepal Independent Hotel Workers Union, and Nepal Tourism and Hotel Associated Workers Union. The three unions will receive one percent each from the service charge.
There has been controversy over sharing the service charge for the past few years. Although there was an agreement signed on December 30, 2006 about sharing the service charge, it was not effectively implemented.
The recent agreement has been brokered through more than a year of discussions between the stakeholders. The agreement has finally given a framework for distributing the service charge between the workers and hoteliers, said Madhav Bhattarai, senior advocate, at a press meet organized in Kathmandu on Friday.
As per the agreement, hotel service workers are prohibited to demand inflation compensation, and annual grade increase except for their regular salary. They cannot put forward any other demand that can add financial pressure on their employer. However, the owners will increase their wages based on government's decision.
According to the 19-point agreement, the 10 percent service charge will be imposed in all types of hotels, motels, restaurants, fast food centers, banquets, party palaces, homestays, monastery stays, Bunge jumping, flight catering and other services related with the hospitality sector, and duly registered as per the law. Similarly, the agreement has mentioned that there will be only five percent annual grade growth of the workers.
"The agreement has also addressed the consumer's rights," Bhattarai said. "According to this agreement, workers' union and trade union can bargain with the organizations regarding their issues but cannot put forward demands that would put economic pressure on the organization."
He further said that the basic salary of the workers will also be increased as per the decision taken by the government. The amended agreement has come into implementation from June 1, 2018.
"We have also formed seven task forces for seven provinces in order to sort out problems in the organizations and to make the organizations run smoothly," Bhattarai added. He further said that workers are not allowed to demand financial help and donations from their organizations.
Welcoming the new agreement, Rabindra Adhikari, minister for Culture, Tourism and Civil Aviation said that this agreement was a big achievement. "I believe this agreement will be helpful for all concerned, and will remain effective for a longer term."