Nepali Pashmina gaining popularity in Chinese market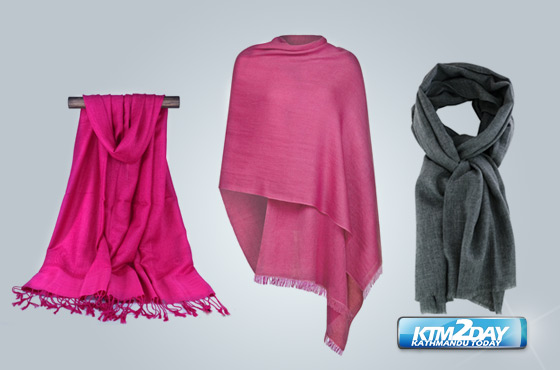 Producers of Nepali pashmina products, buoyed by the agreement made with a Chinese company during the recent visit of Prime Minister KP Sharma Oli, have started the process to send specimens of Nepali Chyangra pashmina to the company.
Providing an easy access for Nepali pashmina in the Chinese market is one the eight pacts for projects worth $2.4 billion that Nepal has signed with the northern neighbour during Prime Minister's visit.
Nepal Pashmina Industries Association (NPIA) also signed an agreement with One Belt One Road International Trade Platform of CIC Mutual Trade Investment Company for the sale of Nepali pashmina in China. The company has agreed to purchase between 200,000 and 500,000 pieces of pashmina shawls every year.
NPIA President Durga Bikram Thapa said they have started work on selecting the specimens that include proper design, colour, size and price of the pashmina shawls to be sent to China. According to him, it is the first time that the Nepali pashmina businesses collaborated to export to a single buyer abroad.
Thapa said the Chinese company has agreed to support Nepali pashmina in two phases. "In the first stage, the company has assured to purchase the prescribed amount for the next few years. Similarly, the Chinese company will help the marketing of Nepali brand in the international market later on," he added.
According to NPIA, the demand for pashmina shawls has been growing in China. However, as many Chinese companies have already been posting good sales in the local market, it is not an easy task for the Nepali product to expand its market there. "In this context, we are looking to send the best of our products to ensure our market through the Chinese company," Thapa said.
Pashmina is one of the country's major exportable items that provided earnings of Rs1.81 billion in the first ten months of the current fiscal year, shows Nepal Rastra Bank's statistics. Over the period, the export of Nepali pashmina surged almost three-fold to Rs63.7 million.
China has recognised Nepali Chyangra pashmina as a registered collective trademark. Along with the country, Nepali pashmina is now registered in 47 countries.
At present, China provides duty-free, quota-free market access for 8,030 Nepali goods. The government is mulling China to provide duty-free access for 512 Nepali products under the six-digit HS code that will incorporate the major exportable goods including Nepali pashmina.