Underground power cables suffers setback due to higher costs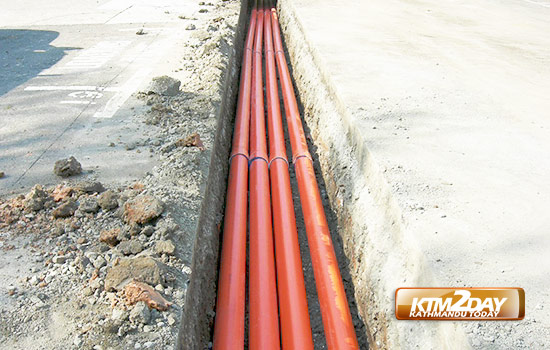 The Nepal Electricity Authority's (NEA) plan to install underground power cables in the northern and central parts of Kathmandu has suffered a setback as potential contractors have quoted a far higher price than its estimate.
The state-owned power utility is planning to replace overhead power lines with underground cables in areas served by its Maharajgunj and Ratna Park distribution centres with a loan from the Asian Development Bank (ADB).
The plan, however, hit a snag after the financial proposals submitted by the bidders quoted a higher figure than the estimated cost of the project. As public procurement laws are not clear about what should be done in such cases, the NEA has not decided its next step, said an NEA source. Although the ADB has asked the NEA to start negotiations with technically qualified bidders and go ahead with signing a contract, the power utility is unwilling to take such a step.
As per the Manila-based multilateral lender's guidelines, the contract can be awarded after negotiating with the bidder if the quoted price is up to 15 percent higher than the estimated price. "As our public procurement law is not clear about the issue, we are yet to decide our next move," said the source.
The NEA invited two separate global tenders to appoint a contractor to lay underground cables in areas served by the Maharajgunj and Ratna Park distribution centres in July and August 2017. The NEA has decided to lay underground electricity cables and remove overhead lines in a bid to improve the distribution system. This is a component of the $180-million Power Transmission and Distribution Efficiency Enhancement Project (PTDEEP) funded by the Nepal government and the ADB.
The project seeks to meet the growing energy demand in the Kathmandu Valley and increase the capacity and reliability of the distribution network by automating the network, laying underground cables, using insulated cables for overhead lines and installing smart meters. Out of the $180 million, the ADB will provide $150 million as a soft loan and the Nepal government will put up the rest.
The major reason behind the plan to remove overhead lines and install underground cables is to increase the reliability of the distribution system, according to the NEA. The power utility's existing distribution system is very fragile, resulting in abrupt power cuts despite adequate supply.
The Valley's existing distribution network can't support a load of more than 400 MW. The NEA is planning to upgrade the system to support a power load of up to 2,000 MW.
The power utility has already appointed contractors to construct six substations at Barhabise, Lapsiphedi, Chapagaun, Phutung, Mulpani and Changunarayan—another component of the project—to enhance the load-bearing capacity of the electricity distribution system in the Valley.