Nepal has witnessed 520,000 tourist arrivals in the first 6 months of 2018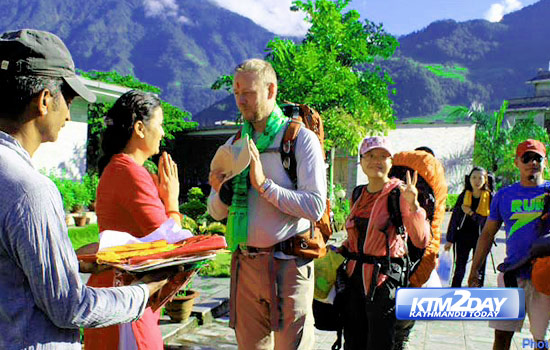 Nepal has witnessed 520,000 tourist arrivals in the first six months of 2018, official statistics show.
According to the Department of Immigration (DoI) stats, the inflow was up by 13 per cent compared to the corresponding period last year. A total of 460,304 foreign tourists had visited Nepal in the first six months of 2017.
Moreover, the arrivals show that the influx of tourists this monsoon is relatively high compared to the previous year during monsoon, which is considered as offseason by tourism entrepreneurs, adding to stakeholders' delight.
An increase in the number of foreigners even during offseason was obviously good news for us (tourism stakeholders), Nepal Tourism Board (NTB) Chief Executive Officer Deepak Raj Joshi remarked.
Indian tourists make up the wider percentage in the figure of total arrivals. The latest data shows that 96,372 Indian tourists visited Nepal in the six-month period followed by Chinese tourists at 71,379.
Likewise, the number of tourists from the United States of America stood at 43,816 and Japanese tourists were tallied at 13,851.
Similarly, Nepal has welcomed tourists from the South Asian countries, European countries — Austria, Belgium, Czech Republic, Denmark, France, Germany, Italy, Netherlands, Poland, Sweden — and other countries during the period.