Nepal Airlines' second Boeing A330-200 jet arrives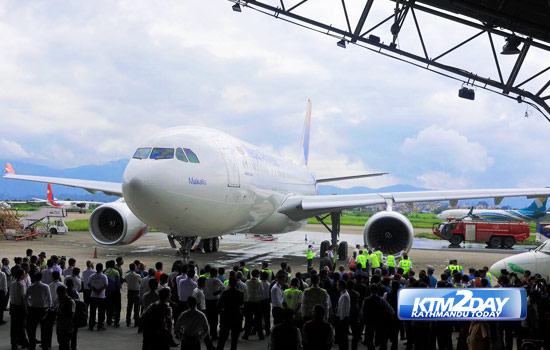 Nepal Airlines Corporation's second wide-body aircraft landed at the Tribhuvan International Airport (TIA) on Thursday morning. The A330-200 jet with the registration mark 9N-ALZ has been named Makalu.
The Airbus aircraft (A330-200) was built in Toulouse of France. It arrived here following a nine-hour flight from Toulouse carrying NAC General Manager Sugat Ratna Kansakar and Captain Srawan Rijal, among others.
The aircraft was welcomed with a water canon salute. Secretary at the Ministry of Culture, Tourism and Civil Aviation Krishna Prasad Devkota and other high-ranking officials of NAC were present on the occasion.
The arrival of the new aircraft has put the national flag carrier in the company of long-haul airlines. Powered by Rolls-Royce Trent 700 engines, the jet has a capacity of 274 passengers in two-class cabin configuration, including 18 in business class.
The NAC had brought its first long-range A330-200 jet in Kathmandu on June 28.
The arrival of two wide-body jets has been described as a 'game-changing event', allowing the NAC to compete with other international players on long-haul routes in Europe, Japan and beyond.