LG V40 with notched display to come with 5 cameras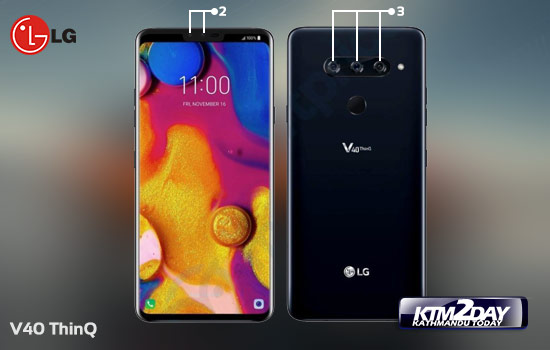 LG's already outed not one, but two V-series smartphones this year, breaking with tradition. We're talking about the V30S ThinQ and the V35 ThinQ, though both of those borrow the looks from last year's V30.
The first truly new V-series handset of 2018 is yet to come, and this is the LG V40 ThinQ.
While at first blush the renders seem to show a phone with no notch, if you look closer you'll notice that it's just 'turned off' in software. The side bezels are almost not there, while the chin is pretty tiny for today's standards.
Like previous rumors anticipated, the V40 will ship with a whopping five cameras – two on the front, three on the rear. It would be only the second or third smartphone to have three lenses on the back, following the Huawei P20 Pro, depending on whether it launches before or after the Chinese company's upcoming Mate 20 Pro.
There's no newly leaked info regarding camera specs, but we assume LG will keep its trademark wide-angle lens as an option – and we're hoping the third module is a telephoto one. That detail hasn't been outed yet, however.
Expect the V40 to come with the very popular glass sandwich design, with the fingerprint sensor placed on the back. The Google Assistant button that debuted in the G7 ThinQ is present too, on the left side below the volume buttons. Also like in the G7, the power button is on the right side – no more embedding it in the fingerprint scanner.
The V40 is keeping the 3.5mm headphone jack, and it wouldn't be surprising at all if LG puts a quad-DAC into the phone as well, since that's recently been included in all of its high-end models. The Snapdragon 845 is probably powering the V40, while the screen tech used is still unclear – the V30 series had P-OLED, the G7 went with LCD.
LG might choose to announce the V40 on November 16, as hinted at by the date seen on the screen in these renders (yes, it's a Friday this year, so that fits too). Then again, even if this was the initial thinking, launch plans can change so nothing's set in stone yet.