Dharahara Tower to rise up once again in Kathmandu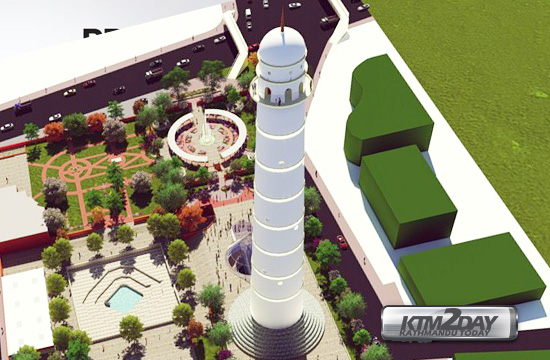 After the bid opening process for the reconstruction of Dharahara — a historical monument that has come to symbolise the devastation caused by the April 25, 2015 earthquake — was deferred eight times, the process to rebuild the iconic monument has finally taken a concrete shape.
The National Reconstruction Authority (NRA), which is responsible for the reconstruction of Dharahara, finally opened the tender bid today.
As per Rajuman Manandhar, joint secretary at NRA, the deal to reconstruct Dharahara has been won by the Nepali and Chinese joint venture company named GIETC-RAMAN J/V. It had quoted a bid of Rs 3.45 billion to reconstruct the historic monument.
Earlier, plans to reconstruct Dharahara had faced perennial delays as the Office of Prime Minister and Council of Ministers (OPMCM) had kept deferring the bid opening process.
The government had been unable to select the contractor for reconstruction of Dharahara since long due to the objection of CICO-Kalika-Rasuwa J/V, which had sought an investigation of the documents provided by the winning bidder — GIETC-RAMAN J/V.
After receiving a complaint from CICO-Kalika-Rasuwa J/V, the OPMCM had asked the NRA to investigate the issue and submit a report. The NRA had submitted its report to the OPMCM on August 19, which has not been made public yet.
"We plan to issue the letter of intent to GIETC-RAMAN J/V on Monday," Manandhar said.
NRA had sought applications from interested companies to rebuild Dharahara on May 14. Within the deadline of July 10, six domestic construction companies in joint venture with foreign firms had submitted their applications to NRA to rebuild the iconic monument.
As per Manandhar, ZIEC-Lama J/V had quoted a bid of Rs 4.50 billion, CR5CEC-Swachehhanda J/V (Rs 4.52 billion), Kumar-CFEC J/V (Rs 4.49 billion), and CICO-Kalika-Rasuwa J/V had quoted Rs 4.39 billion to rebuild Dharahara.
Similarly, another Chinese J/V firm had expressed interest to rebuild Dharahara in joint venture with a local firm, but it was rejected straightaway for not fulfilling NRA guidelines.