Next generation Mahindra Pik-Up launched in Nepal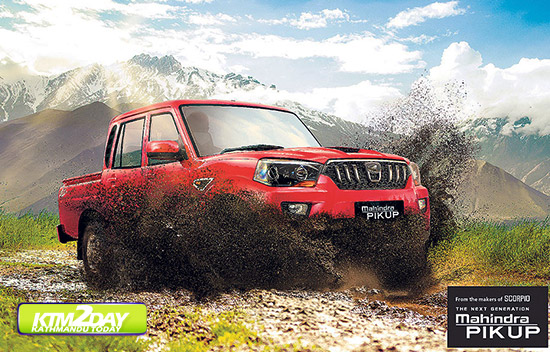 Mahindra & Mahindra Ltd showcased its updated version of the Next Generation Mahindra Pik-Up on Friday in Kathmandu.
Issuing a statement, the company, a part of the Mahindra Group, said that the Next Generation Pik Up promises to make competitors pay heed, with its refreshed outer body styling, new six speed transmission, increased turbo diesel power with 103KW and an impressive towing capacity of 2500kg.
The new Pik Up is an all-rounder vehicle with new age, powerful, spacious and hi-tech offering, according to the statement. "The upgrade, with its aggressively-styled exteriors and plush interiors includes a complete overhaul of the Mahindra Pik Up's aesthetics, with specific emphasis on the front-end styling," read the statement.
"The vehicle offers SUV-like-feel yet remains within the identity of the Mahindra Pik Up's rugged and reliable legacy." According to the statement, the products will be available across the extensive network of Agni Incorporated ltd in Nepal.