KTM Monorail Project cost to increase by Rs. 36 billion than earlier speculated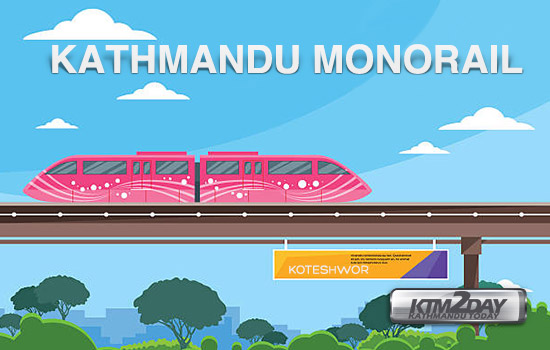 Due to lack of coordination between two government entities, the government will have to incur increased cost to build the 28.55-km long Kathmandu Monorail.
Initially, the Kathmandu Monorail Company Pvt Ltd (KMCPL) had submitted a detailed feasibility study report to the Investment Board Nepal (IBN) on May 15 stating it would cost Rs 80 billion to complete the project.
However, in a recent development, the China Railway Construction Corporation (CRCC), which had been assigned by Kathmandu Metropolitan City (KMC) to conduct another feasibility study on May 16, submitted a report on Thursday stating that it would cost Rs 116 billion to construct the monorail project.
"We have also included the cost of land acquisition for the project in the report, which has increased the cost of the project," said Nabin Pokharel, Nepal representative of CRCC 25th Bureau.
Pokharel further said that they were aware about the dispute between the IBN and KMC regarding the construction of Kathmandu Monorail. "If selected, we will be following the internationally practiced model to build the project and the actual cost of the project can be ascertained only after the detailed project report has been finalised," he added.
Also read – Nepal's first 800-metre underpass at Kalanki comes into operation
"CRCC plans to manage the funds needed for the project through buyer's credit facility, which is a general global practice used in building large projects," stated Pokharel.
As per CRCC, they plan to build the project under the engineering, procurement, construction and financing (EPCF) model.
Meanwhile, KMCPL had proposed to build the project under the build, own, operate, transfer (BOOT) model. "We are ready to build the project but the commission-oriented government officials have ignored our detailed feasibility report," said DN Thapa, chairman of KMCPL.
"I feel that the government is actually not serious about constructing the Kathmandu Monorail project," stated Thapa. "We have quoted a lower price, but KMC has given CRCC more priority to build the project."
Meanwhile, KMCPL has filed a case against IBN at the Supreme Court seeking a review of a few provisions in the draft of the memorandum of understanding, which had been amended by IBN later. One of the provisions that was later added by IBN was that a company would have to deposit performance guarantee of Rs 100 million to conduct detailed project report, which KMCPL has objected to.
In another development, IBN has said it is unaware about the progress of the project. "We haven't received any written document regarding the pact and detailed feasibility report between KMC and CRCC," said Maha Prasad Adhikari, chief
executive officer of IBN.
Adhikari further mentioned that any firm that wants to build the Kathmandu Monorail has to approach the IBN for the project development agreement and financial closure as there is a government rule that any project that costs Rs 10 billion or above has to be approved by IBN.