Nepal promotes Tourism Products at PATA Travel Mart 2018 in Langkawi Malaysia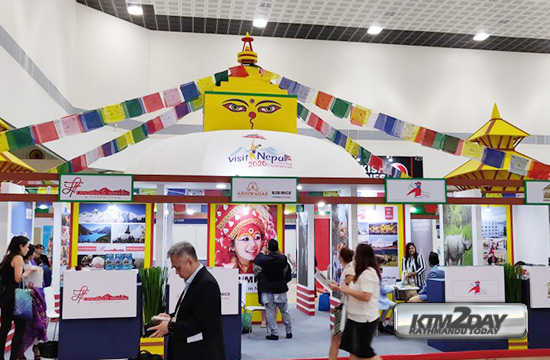 PATA Nepal Chapter and Nepal Tourism Board (NTB) jointly promoted the country's tourism at the PATA Travel Mart 2018, which concluded in Malaysia recently.
Ten different private sector tourism entrepreneurial companies from Nepal had displayed various tourism products, including travel packages through a dedicated 'Nepal Pavilion' at the event which attracted over 1,400 delegates from 70 global destinations, as per officials of PATA Nepal Chapter.
The artfully-designed Nepal Pavilion with the unique combination of traditional pagoda-shaped temples and stupas along with diversified natural, cultural and adventurous tourism assets of Nepal stood out due to its unique design and branding, PATA Nepal Chapter officials claimed.
Regarded as one of the major tourism events in Asia, PATA Travel Mart 2018 saw participation of hundreds of young international tourism professionals from countries, including Bangladesh, Canada, Malaysia, Nepal, Philippines and Singapore, among others.
Deepak Raj Joshi, chief executive officer of NTB, informed that PATA Travel Mart is one of the prominent platforms to promote and showcase Nepal's diverse tourism offerings amongst thousands of delegates from around the world.
"We are very happy to receive the increasing interest for destination Nepal by the world tourism communities, and our collaborative efforts and engagement with the private sector have also been very strong and effective
for promotion of tourism," said Joshi.
Meanwhile Nepal was also honoured with the best PATA Chapter Award on 'Next Gen Engagement' by PATA. "Receiving such award is a matter of pride for Nepal and will help to boost the country's tourism," said Suresh Singh Budal, chief executive officer of PATA Nepal Chapter.
Meanwhile, NTB also sponsored 'Buyer Lounge' at the event to promote Visit Nepal Year 2020 in a massive way. As per officials, over 200 buyers attended the lounge for business meetings.