Taxi drivers booked for overcharging and cheating on commuters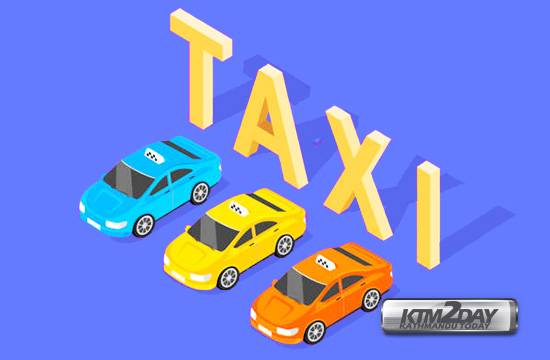 Traffic police have booked as many as 1,288 cabbies in the past two months for cheating commuters and engaging in unethical business practices.
According to Metropolitan Traffic Police Division, it was part of a special operation launched by traffic police to make the cabs systematic in Kathmandu valley. On-duty personnel and plainclothes cops in the guise of passengers took action against the fraudulent cabbies.
Senior Superintendent of Police Basant Kumar Pant, MTPD acting in-charge, said the cabbies were found operating taxis without the mandatory computer billing system, seal on the fare meters, and tampering with and using defunct fare-meters. They had also overcharged the passengers and refused to provide service on fare meters for short distance. This operation comes in the wake of growing complaints against taxi drivers.
He informed that the initiative was aimed at deterring the cabbies from overcharging and cheating commuters. Unscrupulous cabbies mostly cheat people waiting for taxis in hospital and airport areas, and busy thoroughfares of the city.
Traffic police have been keeping a close watch on taxis in the daytime and at night when they try to fleece passengers taking advantage of emergencies and non-availability of public vehicles," he said.
Cabbies who refuse to serve the passengers by turning on fare-meters are referred to the Transport Management Office for necessary action and are fined Rs 2,000 each. Similarly, if a taxi driver is found operating with a tampered meter, the National Bureau of Standards and Metrology may impose on him/her a fine of up to Rs 5,000, along with a warning in the first instance to fix the meter. Those refusing to travel short distance and overcharging passengers are punished by traffic police with a fine of Rs 1,500 each.
Meanwhile, Traffic Police Control Room is tasked with responding to passengers' complaints and ensuring that dishonest taxi drivers are booked for investigation. Anyone who is cheated by cabbies may report to the control room (103), suggested SSP Pant.
In the fiscals 2016-17 and 2017-18, 4,518 and 8,120 taxi were booked for their involvement in various offences. Many of the cabs were repeat offenders. Around 10,000 taxis operate in the valley. If the data of unscrupulous taxi drivers are analysed, no cabbie is found to be doing his/her business honestly.