Buddha Air possibly in talks with Embraer to acquire E190-E2 aircraft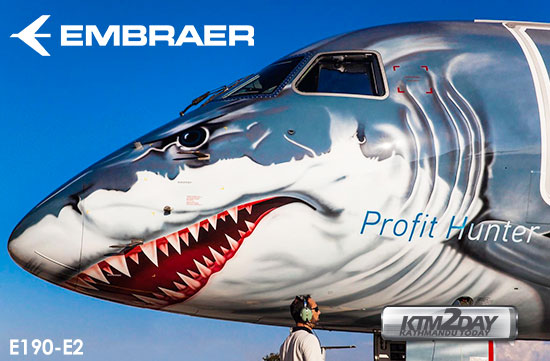 Embraer, the third largest civil aircraft manufacturer from Brazil conducted "Demonstration Flight" in Kathmandu on Monday.  Embraer has sent their E190-E2 test aircraft to Nepal to perform customer demonstration flights and allow engineers, ground crew and media to experience the aircraft.
Embraer's E190-E2 Profit Hunter demonstration airplane, with its distinctive shark livery, attracted a lot of attention at this year's Farnborough Airshow in England, where the Brazilian company reported taking firm orders and letters of intent for an astounding 300 airplanes valued at $15.3 billion.
Also read – Nepal Airlines resumes flight to the gateway to Mt Everest
After its European success, the eye-catching airplane went on a tour of six African countries,India and has now landed on Tribhuwan Intl' Airport,Kathmandu. The aircraft is currently parked inside Buddha Air's closed door hangar.
According to Embraer, the aircraft can be a game-changer here because of it's size and efficiency.
Buddha Air is a prime target for Embraer as they operate a fleet of ATRs and are looking to expand its wings outside Nepali sky and set course for exotic foreign destinations by 2020. The airline is in dire need of a large commercial jet aircraft as its current fleet of aircraft are incapable of long haul flight.
Besides that, other major airline companies like Yeti Airlines and Shree Airlines  are also on the race to fly abroad and grab major international destinations first.
Buddha is now in the final stage of choosing the right aircraft that fits its need after decision between Airbus or Boeing is made.
Being already an ATR operator, the management at Buddha Air had first kept in touch with Airbus. The European manufacturer had proposed Airbus A319 to the airline.
The officials of Boeing had also arrived in Kathmandu back in February to convince Buddha about their 737 Max 8 aircraft. Boeing is also in talks with Embraer for a strategic partnership , where Boeing will hold $3.8 billion –80% of a joint venture for Embraers's airliners and services, valued at $4.75 billion, and Embraer will own the remaining 20% which mirrors a deal last fall by rival Airbus to join in a partnership with Bombardier.
The deal is yet to be finalized before a new government takes over in 2019 following October elections in Brazil.