UKaid Sakchyam and F1Soft to establish Nepal's first Online Reverse Factoring Platform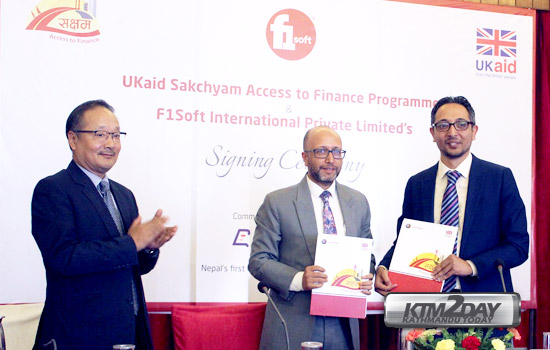 F1Soft International Pvt. Ltd. has partnered with UKaid Sakchyam Access to Finance Programme(Sakchyam) to introduce"Online Reverse Factoring Platform", a first of its kind technological innovation, to enhance access to finance for MSMEs in Nepal.
Mr. Nirmal Dahal, Team Leader of Sakchyam along with Mr. Subash Sharma, CEO of F1Soft International, signed and exchanged certificates on behalf of their respective organizations during an event held at Hotel Himalaya. Mr. Sudesh Khaling – CEO of Laxmi Bank and Mr. Ramesh Luitel – Director of Finance Buddha Air were also present during the occasion.
Under this partnership, F1Soft International will develop and operate an online platform titled Quik Bhuktani. The solution will link small and medium suppliers of large businesses/ anchor firms, and banks through an online platform to enable reverse factoring, facilitating instant access to credit for suppliers.
Using this online system, Banks can offer low-risk short term loans to suppliers, who sell their goods/services to large businesses/anchor firms on credit, and they will have convenient and non-collateralized access to financial services backed by accepted invoices.
Mr. Nirmal Dahal, Team Leader of Sakchyam said, "Digital innovations hold key to unlocking access to finance for individuals as well as businesses. We at Sakchyam have been a frontrunner and strong advocate of such innovations and this new development is yet another step in the same direction".
Stressing on the importance of digital innovation, Mr. Subash Sharma, CEO of F1Soft, said, "As Nepal's leadingFinTech company, it gives us immense pleasure to be able to develop financial tools that have the potential to revolutionize a large segment of the economy.
Our innovations have always focused on providing simple, secure and affordable access to finance for individuals. With QuikBhuktani, we will be benefitting enterprises as well. We are very excited about this partnership and the project prospects."
Established in 2004, F1Soft International is Nepal's leading and largest Financial Technology Company and also the pioneers of mobile financial services in the country. The company employs over 400 people. Sakchyam is a UKaid-funded access to finance programme. It is being implemented by Louis Berger for DFID Nepal, in partnership with local and international institutions.