Samsung Galaxy S10 to have 5G variant, triple cameras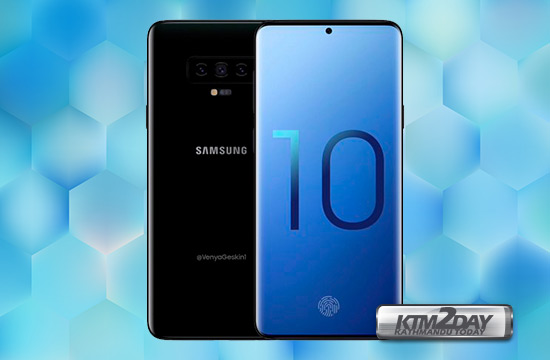 Samsung is gearing up to launch three models of its Galaxy S10 including a 5G variant, which will be unveiled in partnership with Verizon Communications in the US. As per a Bloomberg report, the Samsung is overhauling its line-up of premium phones for the next year to stay ahead of Apple and Chinese rivals. In addition, the South Korean technology company could also showcase a physical model of its foldable smartphone (codenamed "Winner") at the Samsung Developer Conference in San Francisco next month.
Also read — Samsung Galaxy S10 Price in Nepal – Available for Pre-Order
Samsung Galaxy S10 5G variant will launch in the US with fifth-generation chipset, said to be offer significantly faster transfer speeds compared to the current fourth-generation networks. "The world's biggest phone maker will launch three versions of the flagship model, including a more affordable version to appeal to the widest range of consumers, they said," the report reads.
A previous report from South Korean, The Bell claims that 5G variant of Galaxy S10 with 5G antenna system is expected to release around March 5, 2019, which is when operators like Verizon start to commercially roll out 5G service. The report adds that only the higher-end Galaxy S10+, which is codenamed "Beyond 2" will get a 5G model and it will launch after Galaxy S10 series officially makes its debut. Only close to two million units of Galaxy S10+ 5G model could be produced, as per the report.
In terms of configuration, the Galaxy S10 is expected to use Exynos 9820 chip or Snapdragon 8150 (otherwise known as Snapdragon 855) depending on the market, these are two 7nm processors. In addition, the Galaxy S10+ will have a 4,000mAh battery, while the Galaxy S9+ now has a 3,500mAh battery due to the adoption of SLP motherboard design probably.
Now, according to the newest piece of information, the Galaxy S10+ model will have a very impressive screen-to-body ratio of 93.4%. For reference, the current Galaxy S9 boasts a screen-to-body ratio of 83.6% and the Oppo Find X offers a 93.8% ratio.
The smartphones trio is expected to arrive in a total of six colors including black, grey, blue, red, green, and yellow.