LG launches TwinWash series of Washing Machines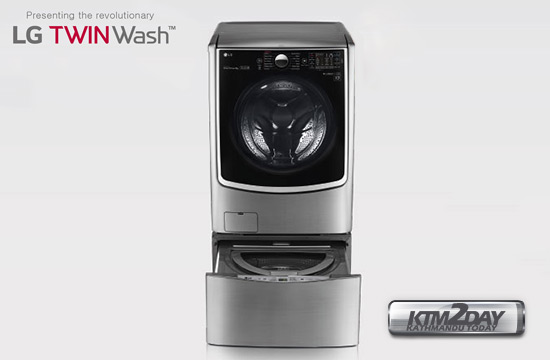 Targeting the festival period of Tihar, LG has launched their latest premium washing machine, the LG Twin Wash.
Some of the key selling points of the LG Twin Wash are outstanding design with innovative features and reliable performance, said Sanjay Rajbhandary, marketing communications, and brand management head at CG electronics.
Also read — LG Washing Machines Price in Nepal
He explained that the washing machine uses advanced technology such as TurboWash 2.0 and TurboSteam to set it apart from other similar products.
According to the company, TurboWash technology has faster wash cycles and ensures that clothes are washed quickly. The technology also delivers improved cleaning performance and effective rinsing.
Similarly, TurboSteam technology prevents over-drying by spraying hot steam onto clothes during the drying cycle, which reduces shrinkage, sanitises the clothes and eliminates wrinkles, said the company.
The LG Twin Wash also utilises 6 Motion technology which simulates hand-washing on delicates to prevent damage on clothes.
These are achieved through the revolutionary inverter direct drive motor which is directly attached to the drum in the washing machine, which improves efficiency and reduces the number of moving parts leading to machine durability, said the company.
The front loading washing machine is the first of its kind in its segment that enables two separate loads to be washed simultaneously, said the company.
LG has paid extra attention to the little things, designing a sliding detergent box at the top to reduce the likelihood of messy spills and improved visibility of the wash cycle with clearer doors. Customers will also not have to bend over as much while using the machine as the machine can be tilted to ensure stress free loading and unloading of clothes.
An energy monitoring feature on the LG Twin Wash provides helpful data which allows users to check the status of their machine through the Smart ThinQ app.
Likewise, LG EcoHybrid dryer technology used in the washing machine recycles heat to save up to 53 percent more energy than typical dryers while the innovative auto clean system keeps the evaporator clean and running smoothly.
LG Twin Wash is available in two attractive colours—modern stainless and white.
LG Twinwash Washing Machines Price in Nepal :
FG1410H3W / TG2402NTWW (White) – NRs. 2,23,390
F2721STWV / T2735NTWV (Stainless Silver)  – NRs. 3,93,390