Apple breathes new life in the MacBook Air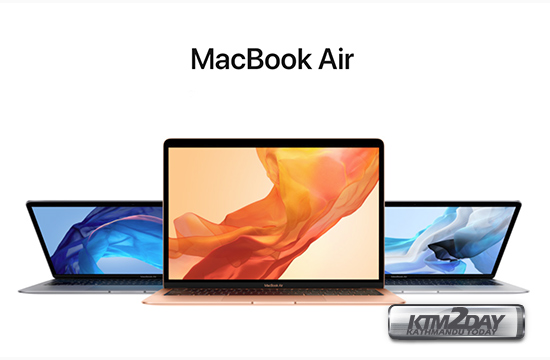 The MacBook Air has risen from the ashes. The reports of its demise, over the years, were greatly exaggerated. It now has a 13.3-inch Retina Display. This is the biggest update Apple could have given the MacBook Air. It also has TouchID built-in, which means you can unlock the MacBook Air with your fingerprint. Yes, this is driven by the T2 chip – which also works to enhance the security of your data and software.
Also read — Apple launches new 11 inch and 12.9-inch iPad Pros
The new MacBook Air's highlight feature is a higher-resolution 13-inch "retina" quality screen, which features four times the pixels. At 2.75 pounds, it's a quarter pound lighter than the previous model, and also a bit thinner and smaller.
The long-overdue refresh also includes a fingerprint reader for securely unlocking the computer, making payments and logging into apps. But some won't be happy that the new model lacks the common USB-A style port and an SD-card reader. Instead, it has two smaller USB-C type ports that work for charging and plugging in external devices.
When Jobs first introduced the Air by pulling it out of an envelope a decade ago, the Air redefined laptop design and became the go-to computer for college students with its thin form, long battery life and lower price. But at $1,200 and up, the Air may have a harder time competing with Microsoft Windows PCs and Chromebooks.
Apple also said the aluminum in the new laptop comes from entirely recycled sources, a milestone in the company's environmental efforts.
The company had no updates to its AirPod headphones, nor did it offer a status report on the AirPower wireless charging pad it announced last year but has yet to start selling.
The new Macbook Air is available in two variants with 128 GB and 256 GB storage.
2018 Macbook Air  – 128 GB 
Touch ID
1.6GHz Dual-Core Processor with Turbo Boost up to 3.6GHz
128GB Storage
1.6GHz dual-core 8th-generation Intel Core i5 processor with Turbo Boost up to 3.6GHz
Retina display
8GB 2133MHz LPDDR3 memory
128GB SSD storage1
Intel UHD Graphics 617
Touch ID
Force Touch trackpad
Two Thunderbolt 3 ports
$1,199
---
2018 Macbook Air  – 256 GB 
Touch ID
1.6GHz Dual-Core Processor with Turbo Boost up to 3.6GHz
256GB Storage
1.6GHz dual-core 8th-generation Intel Core i5 processor with Turbo Boost up to 3.6GHz
Retina display
8GB 2133MHz LPDDR3 memory
256GB SSD storage1
Intel UHD Graphics 617
Touch ID
Force Touch trackpad
Two Thunderbolt 3 ports
$1,399