Samsung brings Tihar Festive offer on selected models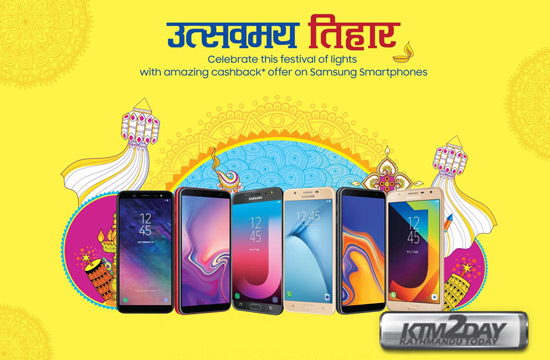 Samsung Nepal has brought a festive offer on the occassion of Nepal's biggest light festival – Tihar, for its customers.
Samsung will be providing cashback offer to only a handful of models under this offer – 6 models to be exact.
Also read – Pocophone F1 set to launch on Nov 11 Daraz Sale– Should you buy it?
Under the offer, customers who purchase Samsung Galaxy J4+ , Samsung Galaxy J6+ , Samsung Galaxy J7 Nxt, Samsung Galaxy On Nxt, Samsung Galaxy J7 Pro and Samsung Galaxy A6 will be eligible for cashback discount of upto Rs.10,000.
Out of the six models – 3 of the handsets are from 2018 while the rest are from 2016 and 2017. All of the six models are notchless display which is now considered somewhat outdated as most handsets from other brands now come with notched dispaly.
These smartphones are available in the range of 20 to 30 thousand rupee after cashback discount applied.
The smartphones with their respective model,pricing,specification and image are listed below.
Samsung Galaxy J4+ (Launched Oct, 2018)
SoC: Qualcomm Snapdragon 425 MSM8917
CPU: ARM Cortex-A53, 1400 MHz, Cores: 4
GPU: Qualcomm Adreno 308, 500 MHz
RAM: 2 GB, 667 MHz
Storage: 32 GB
Memory cards: microSD, microSDHC, microSDXC
Display: 6 in, TFT, 720 x 1480 pixels, 24 bit
Battery: 3300 mAh, Li-Ion
OS: Android 8.1 Oreo
Camera: 4160 x 3120 pixels, 1920 x 1080 pixels, 30 fps
SIM card: Nano-SIM
Wi-Fi: b, g, n, Wi-Fi Hotspot, Wi-Fi Direct
Actual Price: NRs. 23,490
Tihar Special – Cashback NRs.4,100 : NRs. 19,390
---
Samsung Galaxy J6+ (Launched Oct, 2018)
SoC: Qualcomm Snapdragon 425 MSM8917
CPU: ARM Cortex-A53, 1400 MHz, Cores: 4
GPU: Qualcomm Adreno 308, 500 MHz
RAM: 4 GB, 667 MHz
Storage: 64 GB
Memory cards: microSD, microSDHC, microSDXC
Display: 6 in, TFT, 720 x 1480 pixels, 24 bit
Battery: 3300 mAh, Li-Ion
OS: Android 8.1 Oreo
Camera: 4160 x 3120 pixels, 1920 x 1080 pixels, 30 fps
SIM card: Nano-SIM
Wi-Fi: b, g, n, Wi-Fi Hotspot, Wi-Fi Direct
Actual Price:  NRs. 31,790 (4GB/64GB) and NRs. 26,990 (3GB/32GB)
Tihar Special –
Cashback NRs.3,800 : NRs. 27,990 (4GB/64GB)
Cashback NRs.3,300 :  NRs.23,690 (3GB/32GB)

---
Samsung Galaxy J7 Nxt – Launched July, 2017
SoC: Samsung Exynos 7 Octa 7870
CPU: ARM Cortex-A53, 1600 MHz, Cores: 8
GPU: ARM Mali-T830 MP2, Cores: 2
RAM: 2 GB, 933 MHz
Storage: 32 GB
Memory cards: microSD, microSDHC, microSDXC
Display: 5.5 in, Super AMOLED, 720 x 1280 pixels, 24 bit
Battery: 3000 mAh, Li-Ion
OS: Android 7.0 Nougat
Camera: 4160 x 3120 pixels, 1920 x 1080 pixels, 30 fps
SIM card: Micro-SIM
Wi-Fi: b, g, n, Wi-Fi Hotspot, Wi-Fi Direct
Actual Price: NRs. 20,990
Tihar Special – Cashback NRs.2,000 : NRs. 18,990
---
Samsung Galaxy On Nxt – Launched Sept, 2016
SoC: Samsung Exynos 7 Octa 7870
CPU: ARM Cortex-A53, 1600 MHz, Cores: 8
GPU: ARM Mali-T830 MP2, Cores: 2
RAM: 3 GB, 933 MHz
Storage: 64 GB
Memory cards: microSD, microSDHC, microSDXC
Display: 5.5 in, PLS, 1080 x 1920 pixels, 24 bit
Battery: 3300 mAh, Li-Ion
OS: Android 6.0.1 Marshmallow
Camera: 4160 x 3120 pixels, 1920 x 1080 pixels, 30 fps
SIM card: Nano-SIM
Wi-Fi: b, g, n, Wi-Fi Hotspot, Wi-Fi Direct
Actual Price: NRs. 23,990
Tihar Special – Cashback NRs.4,000 : NRs. 19,990
---
Samsung Galaxy J7 Pro – Launched July,2017
SoC: Samsung Exynos 7 Octa 7870
CPU: ARM Cortex-A53, 1600 MHz, Cores: 8
GPU: ARM Mali-T830 MP2, Cores: 2
RAM: 3 GB, 933 MHz
Storage:  64 GB
Memory cards: microSD, microSDHC, microSDXC
Display: 5.5 in, Super AMOLED, 1080 x 1920 pixels, 24 bit
Battery: 3600 mAh, Li-Ion
OS: Android 7.0 Nougat
Camera: 4128 x 3096 pixels, 1920 x 1080 pixels, 30 fps
SIM card: Nano-SIM
Wi-Fi: b, g, n, Wi-Fi Hotspot, Wi-Fi Direct
Actual Price: NRs. 30,900
Tihar Special – Cashback NRs.5,000 : NRs. 25,900
---
Samsung Galaxy A6 – Launched May, 2018
SoC: Samsung Exynos 7 Octa 7870
CPU: ARM Cortex-A53, 1600 MHz, Cores: 8
GPU: ARM Mali-T830 MP2, Cores: 2
RAM:  4 GB, 933 MHz
Storage: 64 GB
Memory cards: microSD, microSDHC, microSDXC
Display: 5.6 in, Super AMOLED, 720 x 1480 pixels, 24 bit
Battery: 3000 mAh, Li-Ion
OS: Android 8.0 Oreo
Camera: 4608 x 3456 pixels, 1920 x 1080 pixels, 30 fps
SIM card: Nano-SIM
Wi-Fi: a, b, g, n, n 5GHz, Dual band, Wi-Fi Hotspot, Wi-Fi Direct
Actual Price: NRs. 39,890
Tihar Special – Cashback NRs.10,000 : NRs. 29,890