Samsung set to launch Galaxy J4 Core with 6 inch display and Android Go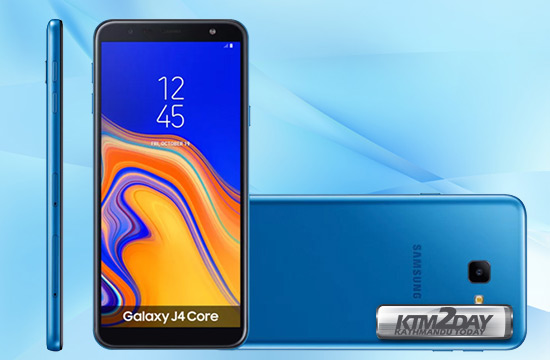 Samsung is preparing to launch its second smartphone with Android Go in the emerging markets. Although Samsung's Android Go is slightly different from the real stock – Android Go, the smartphone will be able to hold out longer battery life with low-powered specifications.
Android Go was designed by Google to give manufacturers a lighter system. That is, the smartphone will be able to live with less specifications. Something a handset with the "normal" Android could not.
Also read – Samsung Galaxy J4+ Price in Nepal
Therefore, "Lite" and "Go" applications are intended for these smartphones in order to make their interaction smooth with even 1GB of RAM. Samsung  unfortunately, does not give us exactly the same system that Google provides with Android Go.
In its first smartphone with Android Go, Galaxy J2 Core, Samsung gave us the same User Interface installed. A seriously criticized and questionable move.
The J4 houses a quad-core CPU (clocked at 1.4Ghz), 1GB of RAM, 16GB of micro SD storage (upgradeable to 512GB), an 8MP F2.2 rear camera, a 5MP front-facing camera, and a 720x1480p screen.
Though the screen is low-res, the device itself is only 6″, so it likely won't be as noticeable as it may be on a higher-end smartphone. The J4's battery capacity is decent for a low-end phone at 3,300mAh, but it's still far from industry standard.
Specifications aside, we don't know what the Galaxy J4 Core's cost will be, nor is it clear precisely when the smartphone will launch. However, you can take a quick look at its full spec sheet below.
Samsung Galaxy J4 Core – Specifications
SoC: Qualcomm Snapdragon 425 MSM8917
CPU: ARM Cortex-A53, 1400 MHz, Cores: 4
GPU: Qualcomm Adreno 308, 500 MHz
RAM: 1 GB, 667 MHz
Storage: 16 GB
Memory cards: microSD, microSDHC, microSDXC
Display: 6 in, TFT, 720 x 1480 pixels, 24 bit
Camera: 3264 x 2448 pixels, 1920 x 1080 pixels, 30 fps
SIM card: Nano-SIM
Wi-Fi: b, g, n, Wi-Fi Hotspot, Wi-Fi Direct
USB: 2.0, Micro USB
Bluetooth: 4.2
Dimensions: 76.1 x 160.6 x 7.9 mm
Weight: 270 g
Battery: 3300 mAh, Li-Ion
OS: Android 8.1 Oreo Go Edition