Nepal remains banned from EU Skies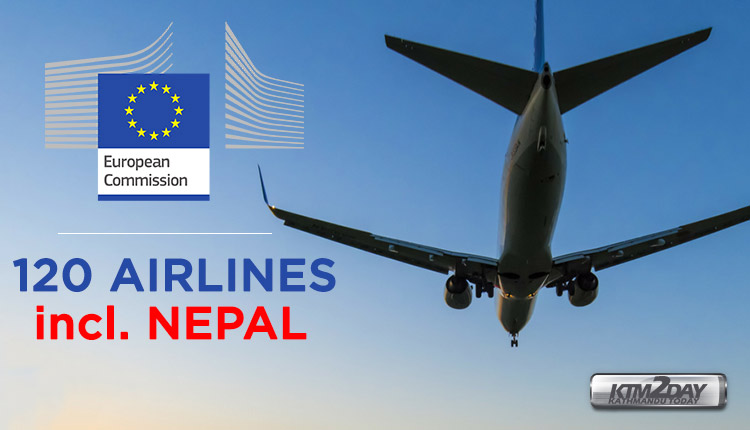 The European Commission (EC) has continued its ban on Nepali airlines for five consecutive years through an updated "EU air safety list".
An "EU Air Safety List" which is comprised of airlines which do not meet international safety standards. Airlines which find themselves on this list are either banned or severely restricted from entering EU airspace.
In the updated list published on November 28, the EC states that Nepali carriers do not meet the international safety standards and are therefore subject to an operating ban or operational restrictions within the European Union.
In December 5, 2013, the EC had imposed a blanket ban on all airlines from Nepal from flying into the 28-nation bloc.
Following the update, a total of 120 airlines are banned from EU skies.
The EC had agreed to send a technical team to Nepal in September to evaluate the status of Nepali airlines and their improvement towards safety. The group was expected to prepare a field report and submit it to its technical committee meeting in November to decide whether Nepal should be removed from the air safety list.
"However, there are no correspondence from either side," said Rajan Pokhrel, deputy director general of the Civil Aviation Authority of Nepal (CAAN). "The EC says that Nepal's accident rate is still high although it has been reduced significantly," said Pokhrel, criticising EC's jurisdiction as it has been counting non-fatal accidents in the domestic sector as the reason for imposing a ban on the international sector. "It's not rational at all."
He said that CAAN had sent all the documents to satisfy the concerns of the EC with evidence regarding the improvements Nepal has made to address air safety deficiencies, but we have not received a reply yet. The airline industry fears that a continuation of the ban will hurt it, as they plan to extend their network to Europe.
Lately, the EC had indicated that it is not happy with the Nepal government's lack of progress on making a law to split the CAAN into regulatory body and service provider.
Currently, CAAN is functioning both as regulator and service provider from the same office, and there is no clear demarcation between its duties and organisational structure. "We have been working on splitting CAAN. However, EC does not have the authority to intervene on the issue to whether CAAN should be split or not," he said. "It's our process."
Although the Cabinet has given the go-ahead to the ministry to prepare a draft of the bill, it is expected to take years to pass the law and split CAAN into two entities,said CAAN officials. The government has been working on the new law for the last nine years.
In July 2017, ICAO removed the significant safety concerns tag it had put on Nepal four years ago. The 2017 audit gave Nepal a score of 66 percent for effective implementation of safety standards.